Artistic social justice: Exhibition to celebrate "Icons of the Civil Rights Movement"
Traveling show commemorates 40 years since the assassination of MLK Jr.
"Icons of the Civil Rights Movement"
Goldfarb Library, Level 3
Aug. 26 – Sept. 30
Opening reception: Sept. 3, 4 p.m., Rapaporte Treasure Hall
WALTHAM, Mass. – An exhibition in honor of Dr. Martin Luther King Jr. and several other Americans who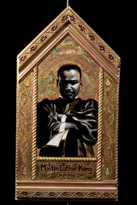 struggled in the civil rights movement is coming to Brandeis. Several of the subjects of the portraits were victims of tragedy, but the show is meant to celebrate their lives and their common mission of social justice.
The Brandeis Intercultural Center and MLK Scholars and Friends will present "Icons of the Civil Rights Movement" from Aug. 26 through Sept. 30 in the Goldfarb Library on campus. The exhibition will feature a series of paintings by Pamela Chatterton-Purdy, who has been involved in social justice throughout her career. The paintings, created with handmade paper, oil paints and wooden frames found at a local dump near her home on Cape Cod, feature individuals who gave their lives to the movement. Some of the subjects are well known (King, Emmett Till, Rosa Parks, Coretta Scott King), others less so.
For the Brandeis exhibition, Chatterton-Purdy has painted a new portrait of Rabbi Abraham Joshua Heschel, an influential theologian who was active in the movement. Heschel wrote that his march from Selma to Montgomery, Ala. with Martin Luther King was "both protest and prayer." "Even without words, our march was worship," he added. "I felt my legs were praying."
"These works provide a unique opportunity to engage the campus in discussion of history and art," says Monique Gnanaratnam, director of the Intercultural Center. "They represent the values at the core of MLK Scholars and Friends and the center, which is to create respect, education, and celebration that fosters growth and awareness of the myriad cultures of Brandeis University."
Chatterton-Purdy created these pieces in just a few months in order to commemorate the 40th year since the assassination of Martin Luther King, Jr. in 1968. The exhibition has been shown in galleries throughout New England, including the Rites and Reason Theatre in the department of Africana Studies at Brown University, and Gordon College.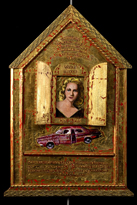 While at Brandeis, Gnanaratnam adds, the exhibition will challenge visitors to consider the following:
-How did the various strands of the Civil Rights movement -- political, social, and, for some, religious -- come together to make change?
-What does it mean to be an icon? Does icon status remove the person from being human, flaws and all?
-What does the legacy of these larger-than-life but ordinary people ask of us today? Which parts of King's dream are still unrealized? Are we still on the path towards that dream?
Chatterton-Purdy's first job was in 1963, as art editor at Ebony magazine (one of two white employees out of 150), where she was responsible for designing visual representations of such events as the bombing of the Sixteenth Street Baptist Church in Birmingham, Ala. Her belief in equality extends to the multiracial family she formed with husband David Purdy and their two biological and two adopted children.
King spoke at Brandeis on April 3, 1957. The emerging civil rights leader was 28 years old and president of the Montgomery (Alabama) Improvement Association, which led the Montgomery bus boycott the previous year. King's talk, "Justice Without Violence," given in Slosberg Hall, addressed the segregation crisis in the South and his theory and practice of non-violent resistance.
King's address can be heard at go.brandeis.edu/mlk.
"Icons of the Civil Rights Movement" is sponsored by the Intercultural Center and MLK Scholars and Friends, and cosponsored by the Office of the Arts, Chaplaincy, Cultural Productions Program, and the Peace, Conflict, and Coexistence Studies Program, and hosted by Library & Technology Services at the Goldfarb Library. The exhibition is free and open to the public.
Related events:
-Sept. 18, 4 p.m., Rapaporte Treasure Hall: panel discussion on the ideas raised by the exhibition, with Chaplain Walter Cuenin, Rob Henrich (History), Ellen Smith (Hornstein Program), and Ibrahim Sundiata (African and Afro-American Studies), moderated by Mark Auslander (Anthropology).
-"Freedom Trail," a walking tour of significant related locations on the Brandeis campus, conducted by the student group MLK Scholars and Friends.
For more information, visit brandeis.libguides.com/icons or contact Monique Gnanaratnam at 781-736-8580 or mgnanar@brandeis.edu.
Return to the BrandeisNOW homepage