Score for "Chang" to be performed by Alloy Orchestra
Film will be screened on giant inflatable outdoor screen
WHO: Members of The Alloy Orchestra, including Terry Donahue (junk, accordion, musical saw, vocals), Ken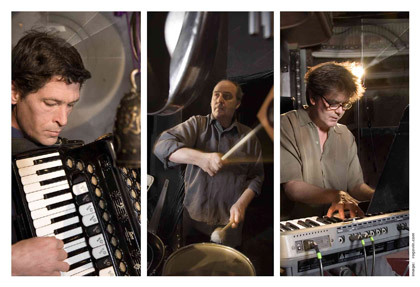 Winokur (director, junk percussion and clarinet) and Roger Miller (keyboards), will perform their newly-composed musical accompaniment to the 1927 silent classic "Chang: A Drama of the Wilderness."

WHAT: The Alloy Orchestra will perform the score for "Chang: A Drama of the Wilderness" at Brandeis on Sept. 8. The group previously presented the score at the Telluride Film Festival in Colorado. The screening will be held outdoors with the film projected onto a 30-foot inflatable screen, which will sit on Chapels Field within the Brandeis campus.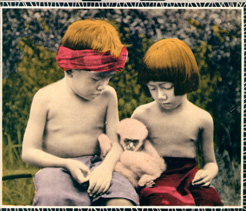 "Chang" is a silent, black and white film written by Achmed Abdullah about a farmer's struggle for survival deep in the jungle of northern Siam, now known as Thailand. The film was nominated for an Oscar and directed by Merian C. Cooper and Ernest B. Schoedsack, who later collaborated on "King Kong."

The Alloy Orchestra is a three-man musical ensemble that writes and performs live accompaniment to classic silent films. The ensemble aims to revive some of the great masterpieces of the silent era. The group says they work "with an outrageous assemblage of peculiar objects, and thrash and grind soulful music from unlikely sources."

The orchestra has performed at numerous prestigious film festivals and cultural centers, including The Telluride Film Festival, The Louvre, Lincoln Center, The Academy of Motion Pictures, the National Gallery of Art and others.

The screening is sponsored by the Film Studies Program and the Edie and Lew Wasserman Fund. For more information contact Dona DeLorenzo at 781-736-2270.

Please note: The screening is free and open to the public.

WHEN: Sept. 8, 8 p.m.

WHERE: Chapels Field at Brandeis University, 415 South Street, Waltham, Mass.

Photocredits:  (from top to bottom)

-The Alloy Orchestra
 Rovogin.com
-Chang
"Courtesy, Milestone Film & Video"
Return to the BrandeisNOW homepage