Schuster Institute for Investigative Journalism hosts screening of "At the Death House Door" on Sept. 18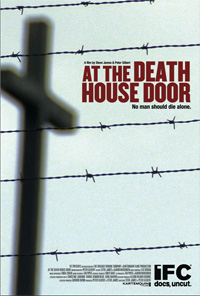 "At the Death House Door" screening and discussion
Sept. 18, 2008
6:30pm
Carl J. Shapiro Theatre
Shapiro Campus Center
Brandeis University
On Thursday, September 18, the
Schuster Institute for Investigative Journalism
will present "
At the Death House Door
," a documentary by award-winning directors Steve James ("
Hoop Dreams
") and Peter Gilbert ("
Vietnam: Long Time Coming
"). Following the documentary screening, the institute will hold a question and answer discussion with two of the subjects of the film, Rev. Carroll Pickett and Maurice Possley.
At the Death House Door, "an impassioned portrait of a quest for truth" (
Chicago Tribune
), depicts the journalistic investigation of the wrongful death of Carlos DeLuna, who was executed in Texas on Dec. 7, 1989. The documentary follows Pickett, the death house chaplain who accompanied De Luna on the day of his execution. 
DeLuna's execution bothered Pickett more than any other during the course of his 15-year career as death house chaplain – a span in which he accompanied more than 90 individuals on the day of their deaths. He firmly believed that DeLuna was innocent, and that feeling and the 11 minutes it took for the prisoner to die marked the beginning of the end of Pickett's ministry with the penal system.
The documentary also focuses on a team of
Chicago Tribune
reporters, including Pulitzer Prize winner Maurice Possley, and their journalistic investigation of DeLuna's innocence. Possley and his team turned up information that prosecutors ignored evidence inculpating a man who bragged to friends about committing the crimes of which DeLuna was convicted. Former Illinois Gov. George Ryan said their reporting played a significant role in his decision to institute a moratorium on the death penalty in Illinois in 2000 and empty Death Row in 2003 by commuting all death sentences in the state.
Return to the BrandeisNOW homepage