Olympic fencer Tim Morehouse '00 wins silver in Beijing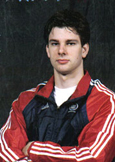 Tim Morehouse '00, the first Brandeis alumnus to represent the United States at the Olympics, made the most of his experience. He's coming home from Beijing with a silver medal. Morehouse and the U.S. men's sabre team scored come-from-behind wins in matches against Hungary and Russia before ultimately falling to France in the gold medal final. Even so, it was a big win for the American squad as it earned the first U.S. medal in men's fencing since 1984.
Morehouse's big performance on the international stage likely comes as no surprise to those who followed his Brandeis fencing career from 1996-2000. In 2000, he was voted the NCAA Men's Sabre Fencer of the year while leading the Division III Judges to a top-10 finish at the Division I NCAA Championships. 
"He's worked very hard to get where he is," said Brandeis fencing coach Bill Shipman. "We're extremely proud of him, and we like to think we helped him a little bit along the way." 
Watch BrandeisNOW's interview with Morehouse's collegiate fencing coach. 
Watch KNBC 4's documentary featuring Morehouse.
Return to the BrandeisNOW homepage