The Rose Art Museum features three major exhibitions this winter
Winter season will include a historical look at the decreasing lines between the gallery and museum; two shows drawing from the permanent collection at The Rose.
Winter 2008: 
Jan. 24 – April 13
Opening reception Jan. 23, 6-8pm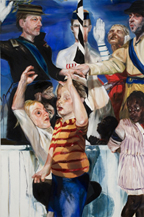 Empires and Environments 
(Lois Foster Wing)
Broken Home: 1997/2007
(The Rose Building)
Arp to Reinhardt: Rose Geometries
(Herbert and Mildred Lee Gallery)
WALTHAM, Mass. – This winter, the Rose Art Museum at Brandeis will present more than 50 artists representing the extraordinary diversity of the Rose collection and emerging talents – several of whom will be exhibiting for the first time in a U.S. museum.
In the Lois Foster Wing, critic/curator Dominique Nahas and artist Margaret Evangeline will curate "Empires and Environments," an exhibition featuring several works from the Rose collection exhibited with new work from emerging artists. This exhibition continues the Rose's recent emphasis on exploring its collection of more than 6,000 pieces.
The aim of the exhibition is to create and unveil surprising correspondences between images and forms from the old and the new. "Empires and Environments" proposes to address the interface of environments, (psychological, natural, and cultural) with drives that entail the structuring of "empires" in symbolic, imaginary, and real terms. Artists from the Rose collection include Andy Warhol, Max Beckman, Bryan Hunt, Elizabeth Murray, Florine Stettheimer, Eduoard Boubat, R.B. Kitaj, Ross Bleckner, and Jackson Pollock. Joing them will be Rudd Van Empel, John Powers, Nathalie Frank, Kate Gilmore, Kris Lukomski, Wayne Gonzales, Nicole Cherubini, Michael Combs, F:T Architecture, Joan Mitchell, Karl Klingbiel, Tonya Ingersol, among others.
Dominique Nahas is an independent curator and critic based in Manhattan. He's a board member of Art-Omi having served as Art-Omi's International Artists Residency Program's Critic-in-Residence in 1999. A regular contributor to Art in America, Nahas has written articles and reviews for a wide variety of art publications such as REVIEW, ARTNews, Flash Art, Art On Paper, Paris Photo, New Art Examiner, ArtNet Worldwide, Art Asia Pacific, New Observations, C, Smock, Sculpture, Chelsea NY Arts and TRANS among many other periodicals. He is a former board member and current member of the International Art Critics Association (AICA-USA). His many curatorial projects have included BROOKLYN!, 2001, and JAPAN:RISING, 2003, both co-curated with Michael Rush for the Palm Beach ICA. He is former curator of the Everson Museum in Syracuse and former director of the Neuberger Museum in Purchase, NY.
New York-based, Louisiana-born painter Margaret Evangeline has long experimented with aesthetically resistant material, making work that deepens the immediacy of a moment. Evangeline uses gunshot and mirror polished stainless steel to open up the all-over 2D picture plane with its taproot in New American-Type Painting. Solo exhibitions of the artist's work have been held at venues as various as The Palm Beach ICA, The Delaware Center for the Arts, The Hafnarborg Art Museum outside Reykjavik, Iceland and the Taipei Museum in Taiwan. In 2008 Evangeline will create a site-specific installation for the River Thames in London on a barge across from the Tate Modern, commissioned by Illuminate Productions.
In recent videos, she experiments with sound and actions collected while shooting the steel panels of a commissioned sculpture. "Once Upon a Time, America," a three-minute video, was produced in conjunction with the site-specific installation now in the permanent collection of The Fields at ArtOmi, near Ghent, New York. She is currently at work on a mid-career monograph with the working title, "The Big Uneasy In Genius Loci."
History will "repeat itself" in the Rose Building with a historical recreation of a 1997 New York gallery exhibition, which was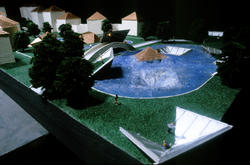 one of the first "guest curated" shows in a commercial gallery. "Broken Home, 1997/2007" is a recreation of the influential 1997 exhibition of the same name at Greene Naftali Gallery in New York, curated by Meg O'Rourke and Caroline Schneider. Artists in the exhibition included Robert Gober, Vito Acconci, Felix Gonzalez-Torres, Dan Graham, Franz West, Thomas Demand, among several others. Only a few of the works sold and today, these works are worth hundreds of thousands of dollars.
For more than a decade, commercial galleries have created what have been called "museum quality" shows in their spaces, with some work for sale and some not. While all professionals in the art world recognize this phenomenon, no museum has yet historicized this practice by presenting what a commercial gallery has curated. To do so might be considered "crass," or "crossing the line" between what have been traditionally separate domains: the gallery and the museum.
This year alone, several noted exhibitions have been organized in commercial galleries, including "Picasso, Braque and Early Film in Cubism," curated by Bernice Rose at Pace Wildenstein; "Project for a Revolution in New York" curated by Mitchell Algus at Matthew Marks Gallery; and "Equal, That Is, to the Real Itself," curated by Linda Norden for Marian Goodman Gallery. Numerous controversial issues are inherent in presenting this gallery exhibition within the museum context. The recreation of "Broken Home" seeks to recognize a very important part of contemporary curatorial practice as well as prompt discussion about the ever-decreasing separations between galleries, auction houses, artists, collectors and museums.
"Arp to Reinhardt: Rose Geometries" is an exhibition featuring important artworks from the Rose's extensive modern and contemporary art collection. Curated by Adelina Jedrzejczak, Ann Tanenbaum Assistant Curator at the Rose, the exhibition investigates geometrical abstraction's coming to prominence in American art of the 1950s and 60s. This is accomplished by looking at ways it's rooted in European art of the 1920s and 30s, exploring its reaction to the emotionality of Abstract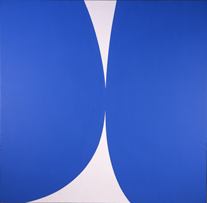 Expressionism and the relationship with Minimalism and influence over later art. Centered on two paintings by Ellsworth Kelly – Yellow Curves (1954) and Blue White (1962) – the exhibition includes works by Jean Arp, Josef Albers Leon Polk Smith, Mary Heilmann, Brice Marden, Robert Mangold, Al Held and Ad Reinhardt.
Kelly's first venture into abstract painting was influenced by Arp's work, which he knew in Paris in the early 1950s. His insistence on deriving abstract form, contour and color from observed reality, however, distinguished his work from that of such contemporary American painters as Josef Albers and Ad Reinhardt. Kelly's work of the 1960s also provided a useful bridge from the vanguard American geometric abstraction of the 1930s and early 1940s to the Minimalism and reductive art of the mid 1960s and 1970s.
"Yellow Curves and Blue White," as well as other works in this exhibition, transcend the subject of sheer geometry and perception, instead drawing the audience into the process in which the artist makes art by reflecting on what he or she sees, then reflecting on those reflections, and so on. The opportunity for immersion by the visitor, the sheer visual pleasure afforded by these artworks, creates a jewel-like space in the Herbert and Mildred Lee Gallery.
About the Rose Art Museum at Brandeis
Located on the campus of Brandeis University in Waltham, Mass., The Rose Art Museum was founded in 1961. Over the past 40 years The Rose has earned a considerable reputation for its collections and exhibitions. The collection contains significant holdings in post-War American art including iconic works by Jasper Johns, Robert Rauschenberg, Willem DeKooning, Roy Lichtenstein, Andy Warhol and numerous others.
The Brandeis art collection of approximately 6,000 objects is considered one of the most significant and comprehensive collections of modern and contemporary art in New England. During the past four decades, The Rose has organized landmark exhibitions including Bruce Conner's and Louise Nevelson's first one-person exhibitions (1965 and 1967 respectively), Frank Stella's Protractor Series (1969), the first US museum video art exhibition "Vision and Television" (1970), Helen Frankenthaler's work from the 1950s (1981), Kiki Smith' and Ellen Gallagher's first one-person museum exhibitions (1981 and 1993), and the award-winning "More than Minimal" (1996); Roxy Paine (2002); Barry McGee (2003), and "DreamingNow" (2004).
Return to the BrandeisNOW homepage