'Bach' to the basics: Brandeis University Chorus to perform Cantata 21 Sunday
Performance of Cantata BWV 21 "Ich hatte viel Bekummernis" will feature guest artists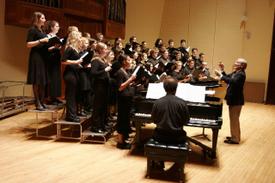 WHO: The Brandeis University Chorus will perform Bach's Cantata 21 with professional guest artists.

WHAT: Following their successful tour of Europe last season the Brandeis University Chorus will perform one of Johann Sebastian Bach's 18th century masterpieces this fall.

On Dec. 7, under director James Olesen, the chorus will perform Bach's extensive Cantata BWV 21 "Ich hatte viel Bekummernis" ("My heart was deeply troubled"), with professional guest artists Jayne West, Pamela Dellal, Jason McStoots, Sumner Thompson, guest instrumentalists and the Leonard Bernstein Scholars.

The piece has many deeply touching and exciting choruses, according to Olesen, and he added that "the music of Bach continues to touch listeners and to be revered and sought after, proving the adage that timeless things are always timely."
Read Musicologist Eric Chafe's notes on Bach's enduring testament to faith in the latest issue of State of the Arts. (PDF)

The chorus draws its members from the entire Brandeis community, including students, faculty and staff. Every year the chorus performs a major work drawn from the vast choral repertory. During the 2007-08 season, the chorus had a weeklong tour of Germany and Austria, singing in High Baroque churches in Munich and Salzburg as well as in the Mozart Saal, a magnificent room in which Mozart performed.

The performance on Dec. 7 will be preceded by a 7 p.m. panel discussion exploring recent research on Cantata 21 by Eric Chafe, the Victor and Gwendolyn Beinfield Professor of Music. Guest panelists Marc Brettler, Dora Golding Professor of Biblical Studies at Brandeis, and Christoph Wolff, Adams University Professor at Harvard University, will join Chafe from 7-8 p.m. and the performance of Cantata 21 will begin around 8:15 p.m. The event is open to the public. Tickets are $10 and $5 for students and seniors.  Tickets are $10 and $5 for students and seniors. To purchase tickets, visit Brandeis Tickets online or call (781) 736-3400.

The Cantata 21 Project is funded by a generous grant from the Brandeis University Arts Council and by the Department of Music at Brandeis.

WHEN: Sunday, Dec. 7, 7 p.m. panel discussion/8:15 p.m. performance

WHERE: Slosberg Recital Hall, Brandeis University, 415 South Street, Waltham, Mass.
Return to the BrandeisNOW homepage