Men's basketball team makes home debut Tuesday night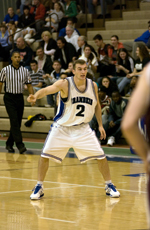 WALTHAM, Mass. — The Brandeis men's basketball team reached the Elite Eight of the NCAA Division III tournament last winter. Now the Judges, ranked No. 9 in the nation in the pre-season, make their home debut Tuesday night at 7:30 p.m. in the Gosman Athletic Center.
Pre-season All-American Steve DeLuca makes his return to Auerbach Arena after missing almost all of last season with an injury when the Judges take on the UMass Dartmouth Corsairs at 7:30 p.m. The Brandeis women, fresh off their upset of 15th-ranked Bowdoin College, play host to Wellesley College at 5:30 p.m.
Those who can't make it to the Gosman Athletic Center to see the Judges live can tune in to WBRS on the Web at www.wbrs.org or view the live stats from the game at www.brandeisjudges.com.
For more information, visit the Brandeis athletics Web site at www.brandeisjudges.com.
Return to the BrandeisNOW homepage