Author Tom Friedman to speak on 'Why We Need a Green Revolution'
Seating for Oct. 16 event with Pulitzer Prize-winning author is limited. Ticket lottery ends Friday.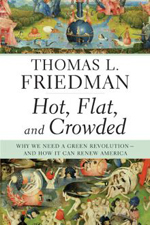 New York Times columnist Thomas Friedman '75, H'88, a three-time Pulitzer Prize winner, will visit campus on Thursday, Oct. 16, to speak about his new book "Hot, Flat and Crowded: Why We Need a Green Revolution — and How It Can Renew America." The event will begin at 3 p.m. in the Spingold Theater Center.
Due to limited seating in Spingold, tickets will be made available through a lottery for current Brandeis students, faculty and staff.

Those wishing to enter the lottery may register between now and midnight on Friday, Oct. 3, by visiting https://sys.brandeis.edu/friedmanlottery/index. Entering your UNet username and password will automatically enroll you in the lottery. A confirmation page will appear in your browser to signify that your registration was successful.

Individuals may register only once for the lottery, and only one ticket will be awarded to each ticket recipient.

Ticket recipients will be contacted by e-mail on Monday, Oct. 6, with information about how to pick up their tickets. Only ticket recipients will be notified.

The lecture will be simulcast live in the Shapiro Campus Center and will be available after the event on BrandeisNOW.
Return to the BrandeisNOW homepage