Experience the richness of classical Indian music with singer Shubha Mudgal
MusicUnitesUS concert on Oct. 18 is part of four-day residency at Brandeis
MusicUnitesUS World Music Concert
"Shubha Mudgal: Passageways of the Soul"
Saturday, Oct. 18, 8 p.m.
Slosberg Music Center
Brandeis University
Free pre-concert lecture
"A Walk Through a Khyal Recital"
7- 7:45 p.m., The Rose Art Museum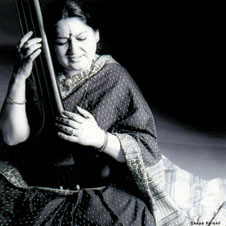 WALTHAM, Mass. – One of the most versatile and popular performers of the new generation of Hindustani musicians will perform at Brandeis University Oct. 18. Shubha Mudgal, an Indian-born singer and composer, will deliver the concert as part of the MusicUnitesUS: World Music Concert Series. This popular series invites audiences from the Boston area and beyond to experience world cultures through the universal narrative of music.

From a living tradition extending back thousands of years, Mudgal's richly textured voice takes the listener on a musical journey that draws inspiration from medieval Sufi poetry, romantic love, and the paradoxes of modern life.
According to Judith Eissenberg, MusicUnitesUS director and professor of the practice of music, Mudgal's music, whether heard on stage or in film, "explores the hidden passageways of the soul, balancing extraordinary discipline and breathtaking virtuosity with the improvisation of the imagination."

Born in 1959, Mudgal has been trained by some of the finest musicians and musicologists in India, such as Pandit Ram Ashreya Jha in Allahabad, from whom she still receives instruction. Shubha has also been guided by Pandit Vinaya Chandra Maudgalya and Pandit Vasant Thakar.

Mudgal will be joined by musicians Aneesh Pradhan (tabla), Sudhir Nayak (harmonium) and Murad Ali (sarangi) for an evening of North Indian classical music. These consummate artists illuminate the beloved Hindustani styles, from the profound beauty of Khyal to the sensuous imagery of Thumri.

The four-day MusicUnitesUS residency with Shubha Mudgal offers a series of open classes, discussions, film and concerts, which will explore the many facets of Mudgal's work and commitments, ranging from South Asian poetics and spirituality to Indian cinema, pop music and the Internet. Events are all open to the public.

Free pre-concert lectures before World Music Concerts are held at the Rose Art Museum from 7 to 7:45 p.m. The talk on Oct. 18, "A Walk Through a Khyal Recital," will be delivered by George Ruckert, a senior lecturer in music at MIT. For a full residency schedule, visit http://www.musicunitesus.info/schedule-fall2008.html.

Location and Tickets
Shubha Mudgal: Passageways of the Soul will be held at 8 p.m. on Oct. 18 in the Slosberg Recital Hall located on the Brandeis University campus at 415 South St. in Waltham, Mass. Tickets are $20/$10 and are available by calling 781-736-3400. Group rates are available. Subscribers attend one concert at half price. Subscribe to both the Lydian String Quartet and World Music Series for the greatest discount. For more information visit http://www.brandeis.edu/arts/concerts/tickets.html.

About MusicUnitesUS
MusicUnitesUS is a three-tiered program of Brandeis University that encompasses an "Intercultural Residency Series," a "Public School Education Program," and a "World Music Series." Since the program began in 2003, the mission has been to further the understanding and appreciation of diverse cultures through music. Visit http://www.brandeis.edu/musicunitesus/ for more information.
Photo Credit: Deepa Parekh
Return to the BrandeisNOW homepage