Women's Studies Research Center exhibit reveals tradeswomen's 30-year fight for equality
"On Equal Terms: A Mixed-Media Installation by Susan Eisenberg"
Oct. 6, 2008 – Jan. 9, 2009
Curated by Wendy Tarlow Kaplan
Kniznick Gallery, Women's Studies Research Center
Brandeis University


WALTHAM, Mass.— From Monday, Oct. 6 through Friday, Jan. 9, "On Equal Terms" addresses the cost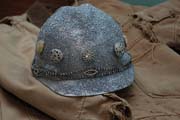 of gender barriers in any occupation – and what it means to treat all individuals fairly. Rooted in a political and cultural context, the mixed-media art exhibition celebrates women in construction and their allies, who have kept affirmative action alive for the past three decades.

Susan Eisenberg, an artist, poet, activist, WSRC scholar and master electrician, interviewed more than 30 other women in the trades- including ironworkers, carpenters, painters and plumbers- about their inspiration, frustration and experiences. Her installation reflects these candid conversations. 

As Eisenberg wrote in the introduction to her New York Times Notable Book, "We'll Call You If We Need You: Experiences of Women Working Construction" (1998), affirmative action "blueprinted a course for the construction workforce just past the start of the millennium to become about one quarter female, making the occupation no longer a nontraditional one for women. This is not what happened. Women's overall percentage of the construction workforce grew to roughly two percent in the early 1980s and remained there."

 "On Equal Terms" combines realistic and fanciful works of art with first-person testimony. It recreates the experience of the first women who crossed onto construction sites in 1978, when a major federal public policy effort opened jobs and apprenticeship training to women.

The installation melds the pride and hardship of the tradeswomen's experiences. A brightly colored birthday cake mixes traditionall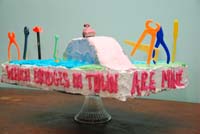 y disparate gender roles, emphasizing the successful intersection of work and family life for tradeswomen. The confection is topped with plastic tools, a pink Mini Mouse car, and the frosted text, "My kids know which bridges in town are mine."

In the same gallery, a full-scale bathroom shack, filled with offensive and misogynistic graffiti, recreates the not-uncommon and non-subtle messages sent to tradeswomen in the workplace. The shack's broken lock, greater than an arm's reach from the toilet, lies just out of reach, reinforcing the perceived threat of the crudely sketched graphics.

Similarly, an uneven pair of ladders demonstrates the dilemma that any worker who doesn't fit the mold faces on job sites. The taller ladder enables visitors to reach the top of the gallery wall safely, and to hypothetically perform a task at that height. Immediately next to it is the shorter ladder, which forces visitors to choose between two dangerous decisions: to balance precariously atop the ladder's highest rung and complete the task, or leave the job unfinished, thereby putting oneself at risk of being reprimanded or fired. The ladders represent the real and metaphoric issues of making the workplace fit the worker, rather than the other way around, whether it's properly sized tools and safety equipment, or starting times and schedules that accomodate the needs of working parents.

Many of these tradeswomen will gather at the WSRC for a conference on Oct.18. The event will highlight strategies to improve tradeswomen's work lives and career opportunities, and to open the industry to more women. 
After leaving Brandeis, the exhibition will be on view at the Adams Gallery at Suffolk University in Boston from Jan. 23 – March 16, 2009. 

An illustrated, color catalogue accompanies the exhibition.

View a preview video of the exhibition.

High-resolution images and a list of the works in the exhibition are available upon request.


This program is funded in part by Ellen Stone Belic; The Natalie Marcus Endowment for the Arts; and the Massachusetts Foundation for the Humanities, which receives support from the Massachusetts Cultural Council and is an affiliate of the National Endowment for the Humanities.
 
"On Equal Terms" events: 

Film Screening: "Transnational Tradeswomen" (2006) with Filmmaker Vivian Price
Monday, Oct. 13, 3:30 – 5 p.m.
Lown building, Room 203
"Transnational Tradeswomen" is a road trip, set off by the 1995 Women's Conference in Beijing that explores the situations of women construction laborers in Asia. The story challenges the common notion that modernization, education, and technology result in gender equality and the alleviation of poverty. It also raises the question: does the gendering of work in construction provide a transnational connection among the women who work in the industry?

Opening Reception
Honoring the Contributions of Massachusetts Tradeswomen
Thursday, Oct. 16, 5:30 – 7:30 p.m.
WSRC, Kniznick Gallery

"30 Years and Still Organizing"
Tradeswomen Conference
Speakers include Nancy Mason, IBEW Local 46/Seattle, and local tradeswomen
Moderated by Susan Eisenberg
Saturday, Oct. 18, 9 a.m. – 4 p.m.
WSRC, Liberman Miller Lecture Hall
Suggested contribution: $10
Please RSVP by Friday, Oct. 10 to wsrcarts@brandeis.edu or 781-736-8102

"The Lonesomeness of Pioneering"
Poetry Reading from Pioneering: Poems from the Construction Site
Tuesday, Oct. 28, 12:30 p.m.
WSRC, Kniznick Gallery
Surrounded by her mixed-media installation, Susan Eisenberg reads poems about construction work, and the women who install power, move earth, and add their signature to the skyline. Meet at the bathroom shack in the WSRC.

For additional information about the exhibition and a complete list of related events, visit http://www.brandeis.edu/centers/wsrc/.


Kniznick Gallery Hours and Location:
Monday - Friday, 9 a.m.-5 p.m.
Weekends by appointment, call 781-736-8102
Women's Studies Research Center, Brandeis University
515 South St., Waltham, Mass. (across from Brandeis/Roberts commuter rail stop)





Return to the BrandeisNOW homepage