Live stream today: Brandeis University Commencement 2009, Sunday, May 17. Go to www.brandeis.edu/streaming
Cory Booker, mayor of Newark, N.J., to give main address
WALTHAM, Mass., -- As it salutes its newest graduates at its 58th commencement exercises May 17, 2009, Brandeis University also will present honorary degrees to seven esteemed individuals, including Newark, N.J., Mayor Cory Booker, who will give the main address at the university this year.To view the commencement, click:  www.brandeis.edu/streaming

The Brandeis Commencement exercises will begin at 10:30 a.m. in the Gosman Sports and Convocation Center. The university will award bachelors', masters' and Ph.D. degrees at the ceremony. For more information, visit the Commencement Web site.

About the keynote speaker
Cory Booker (Doctor of Humane Letters)
Cory Booker, mayor of Newark, New Jersey, is a graduate of Stanford University who attended Queens College, Oxford, as a Rhodes Scholar. While at Oxford, he joined and later became president of the l'Chaim Society, a Jewish student organization, explaining that he became "more Christian" by learning about other religions. Upon his return to the United States, he attended Yale University Law School, where he ran a student legal clinic, volunteered in a local Big Brother program, was a founding member of the Yale Chai society, and received a law degree in 1997. In 1998, at age twenty-nine, he became the youngest person ever elected to the Newark Municipal Council. Booker's first mayoral race in 2002 was the focus of the documentary Street Fight, which was nominated for an Academy Award. That same year, Booker founded Newark Now, a nonprofit organization that supplies city residents with the necessary tools, skills, and assistance to change their neighborhoods for the better. Elected mayor in 2006, he found himself head of a city where one-third of the children were living in poverty and gun violence was prevalent. Under his leadership, murder rates in Newark dropped 40 percent in 2008 alone, and he continues to make reducing crime a top priority in his administration. During his three years as mayor, Booker has worked on campaign-finance rules, sought to remake the city's police stations, promoted downtown redevelopment, created summer jobs for teenagers, and focused on economic empowerment and programs to support families, children, and seniors.

Click here to read a Booker column on education reform.
The other 2009 Brandeis University honorary degree recipients

James Conlon (Doctor of Humane Letters)

Maestro James Conlon, music director of the Los Angeles Opera since 2006, has, in a career spanning more than three decades, served as a conductor with some of the world's most renowned opera houses and symphony orchestras. He has appeared with virtually every major North American and European opera company and orchestra, including the Royal Opera at Covent Garden and Teatro alla Scala. At the Los Angeles Opera, he has led seven Wagner works as part of an effort to create a Wagnerian tradition. He has conducted more than 250 performances at the Metropolitan Opera, and he was principal conductor of the Paris National Opera from 1995 to 2004, serving the longest tenure of any conductor with that company since 1939. Under his leadership, the opera witnessed an increase in artistic standards and overall attendance and productivity. An advocate for the work of lesser-known composers affected by the Holocaust, he has used his passion for music to bring the music of those composers to the Los Angeles stage through his project "Recovered Voices." He received Italy's Premio Galileo 2000 Award for his contribution to art, music, and peace, and in 2005 he became one of the five first recipients of the annual Opera News Awards. In 2008, he received the Medal of the American Liszt Society for his performances of the composer's works. Currently in the midst of a two-year artist residency at the Juilliard School in New York, he is working to foster growth in the young artists of the school's three divisions of dance, music, and drama.

Marilyn Horne (Doctor of Humane Letters)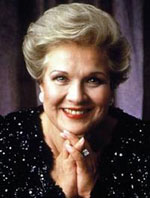 Marilyn Horne has been called "probably the greatest singer in the world" (Opera News, 1981). Born in 1934 in Bradford, Pennsylvania, the American mezzo-soprano began her journey toward international stardom with her operatic debut at the age of twenty in the role of Hata in Smetana's The Bartered Bride. That summer, she sang the voice of Carmen Jones in Oscar Hammerstein's recreation of Bizet's Carmen. She studied with, among others, William Vennard at the University of Southern California in Los Angeles. In 1956, Horne traveled to Germany, and joined the opera company in Gelsenkirchen. She remained there until 1960, appearing in many of the company's productions and receiving rave reviews. By the late 1960s, she began performing regularly in the world's great opera houses. In 1984, she performed Handel's Rinaldo at the Met – the first Handel opera ever performed there. She has been singing for over fifty years and her contributions to the opera world will live on in her numerous recordings, including Meyerbeer's Le Prophète. Today, she works as the Vocal Program Director at the Music Academy of the West in Santa Barbara, California, and has also set up The Marilyn Horne Foundation, which helps to support and educate young singers.
Rajendra K. Pachauri (Doctor of Humane Letters)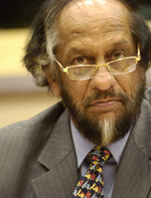 Rajendra K. Pachauri is an Indian environmentalist who serves as director general of The Energy and Resources Institute (TERI), an organization in New Delhi dedicated to research and the promotion of environmental sustainability. He holds a master's degree in industrial engineering and PhDs in industrial engineering and economics from North Carolina State University, where he also served as a member of the faculty. In 1981–82, he was a visiting professor of resource economics at West Virginia University and a senior visiting fellow at the Resource Systems Institute, East-West Center, in Honolulu. The author of some 23 books, he has also written more than 100 articles for academic journals. Since he joined TERI in 1982, it has become one of the best-known research institutes in the world. Since 2002, Pachauri has chaired the Intergovernmental Panel on Climate Change, where he spearheaded the production of its fourth and most challenging assessment report. He has also served the government of India as a member of the prime minister's Economic Advisory Council, Advisory Board on Energy, and Council on Climate Change, a scientific intergovernmental body that provides policymakers an objective analysis of climate change. The recipient of many global honors, he was awarded India's Padma Bhushan for his service to the environment and received the country's second-highest civilian award, the Padma Vibhushan. In 2006, the Government of France awarded him the Legion of Honor medal, and in 2007 he was co-recipient with Al Gore of the Nobel Peace Prize.
Bill T. Jones (Doctor of Humane Letters)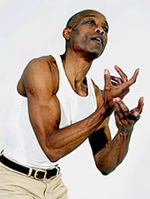 Famous for his work's influential expression of sexuality and race, choreographer Bill T. Jones is the cofounder and artistic director of the Bill T. Jones/Arnie Zane Dance Company. Now in its twenty-fifth anniversary season, the ten-member troupe has performed in more than 200 cities and thirty countries worldwide, including France, Italy, Australia, Brazil, Canada, Japan, South Africa, and the United Kingdom. The company is named for Jones and his late partner, Arnie Zane, with whom he formed the American Dance Asylum in 1973 with collaborators Lois Welk and Jill Becker. Jones and Zane choreographed works whose visual aesthetics and provocative topics shocked audiences of modern dance.  For Jones, drawing upon personal experience enriched and revolutionized his work.

In addition to creating more than 100 works for his own company, Jones has choreographed for the Boston Ballet, the Berlin Opera Ballet, the Lyons Opera Ballet, and the Alvin Ailey American Dance Theater. He was the recipient of a MacArthur Foundation "genius grant" in 1994, and in 2007 he received a Tony Award for best choreography for his work in Spring Awakening. Deemed "an irreplaceable dance treasure" by the Dance Heritage Coalition, he also won the 2005 Samuel H. Scripps American Dance Festival Award for Lifetime Achievement, the Harlem Renaissance Award, and the Distinguished Alumni Award of the State University of New York at Binghamton (SUNY).

Israel Gutman (Doctor of Humane Letters)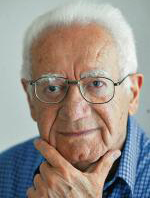 Israel Gutman, a survivor of the Warsaw Ghetto Uprising and the concentration camps of Majdanek, Auschwitz, and Mauthausen, is the world's foremost scholar of and authority on the Holocaust. Following the Second World War, he moved to Mandate Palestine and joined Kibbutz Lehavot Habashan, where he raised a family and was a member of the kibbutz for twenty-five years. He earned a PhD at the Hebrew University of Jerusalem and later held the Max and Rita Haber Chair in Modern Jewish History at the Hebrew University's Institute of Contemporary Jewry.  He is the former director and now academic adviser to the International Institute for Holocaust Research at Israel's Yad Vashem, the Holocaust Martyrs' and Heroes Remembrance Authority, and deputy chairman of the International Auschwitz Council. He served as editor-in-chief of the Encyclopedia of the Holocaust, which was published in 1990, winning the American Library Association's Dartmouth Medal that year. He is also an adviser to the Polish government on Jewish affairs, Judaism, and Holocaust commemoration. A distinguished scholar, Gutman is the author, editor, or co-editor of numerous works, including The Jews of Poland between Two World Wars; Unequal Victims: Poles and Jews During World War Two; The Jews of Warsaw, 1939–1943; Resistance: The Warsaw Ghetto Uprising; Anatomy of the Auschwitz Death Camp; and Nazi Europe and the Final Solution, among others. He is the recipient of the Salonika Prize for Literature, the Yitzhak Sadeh prize for Military Studies, and the Polish Unification Prize.

Stef Wertheimer (Doctor of Humane Letters)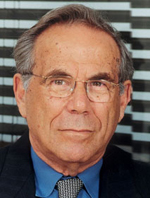 Best known for founding industrial parks in Israel and neighboring countries, Stef Wertheimer is an Israeli entrepreneur and industrialist and a former member of the Knesset (Israeli legislature). Born in Germany, his family fled to Palestine in 1937 and settled in Tel Aviv. He served as an optical equipment technician with the British Royal Air Force during the Second World War and as a technical officer in the Yiftach Brigade during the 1948 Arab-Israeli War. In 1952, he started a small metal tool-cutting factory, ISCAR, in the backyard of his home in Nahariya, Israel. Today, ISCAR Metalworking Company is one of the world's largest manufacturers of carbide industrial-cutting tools, with branches in more than fifty countries. He has founded industrial parks in Israel with the goal of fostering economic growth and job creation to help achieve stability in the region. His model park is the Tefen Industrial Park, built in 1982, which encompasses everything from transportation to cultural and educational facilities. It is one of four such parks in Israel that generate some $1 billion in combined revenue. Wertheimer is especially proud of the industrial park in the Arab-Israeli city of Nazareth, where Jews and Arabs work side by side. He promotes the idea of a "Marshall Plan for the Middle East," his concept for using industry to provide training, create jobs, alleviate poverty, and raise the per capita income of those living in the region.  In 1991, he was awarded the Israel Prize for Lifetime Achievement and Exceptional Contribution to the Nation.


Return to the BrandeisNOW homepage