Martha Kanter '70 is uncapping human potential
Brandeis University Magazine follows her journey from campus to the Obama administration
The following article appears in the latest Brandeis University Magazine. Click here to download other highlights from the fall 2009 issue.
As the nation's top federal official on higher education, Martha Kanter '70 knows that preparing American workers for the shifting twenty-first-century economy is crucial to the country's prosperity.

To get that preparation, however, many students need financial aid as well as assistance to make sure they graduate. Kanter, recently tapped by President Barack Obama to serve as undersecretary of the U.S. Department of Education, says the federal government can help by simplifying the federal student-aid application, implementing the president's student-loan reform agenda, and providing incentives to institutions and states to increase opportunity and achievement for college students.

Kanter, age sixty, arrived in Washington in July as the Obama administration moved forward with its ambitious blueprint. Kanter comes to the capital after spending three decades as an educational leader in California's community-college system, including the last six years as chancellor of the Foothill–De Anza Community College District, which serves 44,000 students in the Silicon Valley region.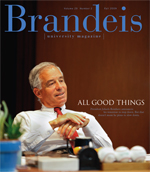 Download the fall 2009 Brandeis 
 University Magazine

There she was known as a consensus builder who was dedicated to making college possible for a broad range of students—from the immigrant looking for a foothold in the American economy, to the laid-off worker seeking new skills to adapt to the changing economy, to the traditional freshman straight from high school.
"People need to have a solid educational foundation, write well, think deeply, be able to solve problems, and attain a solid level of scientific literacy," says Kanter. "It used to be that you graduated from college, got a job for thirty years, and then retired. It's different in the twenty-first century. People will need two, or three, or even four types of education and training during their working years."
Before students can attain that solid foundation, they must be able to afford the rising cost of higher education. Kanter and the Obama administration are tackling that issue on several fronts.
The administration estimates as many as 1.5 million qualified students don't receive federal Pell grants because parents find the paperwork too complicated. To address this problem, the unwieldy Free Application for Federal Student Aid (FAFSA), which all families must fill out to qualify for scholarships, will be simplified for the 2010–11 academic year. Far fewer questions will be asked, and parents will be able to download their federal tax information to the online questionnaire.
"There were 150 questions, and now it's cut in half," Kanter says. "This will help us get the grants and the loans to where they are needed."
Raised in the Boston suburbs, Kanter had her first brush with discrepancies in educational opportunity in the early 1960s, when as a ninth-grader at the independent Winsor School she traveled to the South End House in Roxbury to volunteer in a tutoring program run byneighborhood activist Mel King.
At Brandeis, she majored in sociology and psychology, studying under renowned psychologist Abraham Maslow when he was developing his theories of human potential and peak experiences. She was among eight Brandeis students who traveled with Maslow to a conference center in Dublin, New Hampshire, known as "Cumbres," or highest peaks, for human-development workshops.
"Humanistic psychology was new, and everything was quite experimental," recalls Kanter. "Those experiences helped develop my view of human potential—it's limitless with the right supports."
After attending Harvard's Graduate School of Education, she became a teacher in the Lexington, Massachusetts, public schools, working with teens in an alternative high-school program where the students were so troubled that she was deputized as a probation officer, she says. She then taught at public and private schools in New York before heading to California in 1977.
There, she began work as an administrator at San Jose City College, developing a program for learning-disabled college students. She then moved to Sacramento, eventually becoming vice chancellor for policy and research for the growing California community-college system. She returned to San Jose City College as vice president of instruction and student services before being named De Anza College president in 1993. She became chancellor of the Foothill–De Anza district in 2003.
Kanter began work as undersecretary right before President Obama announced his American Graduation Initiative, a ten-year, $12 billion plan to modernize community-college campuses, provide performance-based scholarships, and expand online course offerings. The nation's wrenching economic downturn has hit higher education, too. She left Foothill–De Anza as her administration grappled with state budget cuts that forced a 5 percent workforce reduction. It was the sixth budget crisis Kanter had seen in California.
Such experiences taught her to cut budgets on the margins to preserve the coreeducational product. "Insociety today, you can't say that you have no inefficiencies," says Kanter. "If worse comes to worst, I'd remind my staff that if the revenue stream won't support our entire program, we'd still be 90 to 95 percent of what we are. I'd ask them what we could suspend for a few years and howwecould do something better."
Hal Plotkin, who served on the Foothill–De Anza Community College District Governing Board during Kanter's tenure as chancellor, says the questions Kanter asks as she considers thorny problems often provide pathways for solutions.
"She frames questions in a way that engages the talents and creativity of those on her team," says Plotkin, now a senior policy adviser under Kanter in Washington. "It's a remarkably effective leadership style that brings out the best in people and generates teamwork and cohesiveness that can bring dramatic accomplishments."
Providing education for underserved populations has been one of Kanter's goals since she entered the education field after graduating from Brandeis in 1970. As she left Foothill–De Anza, the district was moving forward on her plan to develop a system of what's called "open educational resources," which creates free, online course materials as alternatives to traditional textbooks. Foothill–De Anza students pay $85 on average for a course, while a science textbook can cost as much as $160, adding to the financial burden on low-income students that financial aid does not cover.
"She works 24/7, she keeps you on your toes, and there's no letup," says Foothill dean Judy Baker, who worked with Kanter on the project. "She keeps driving and won't accept failure. She invests time and attention in people. She doesn't close any doors. She keeps busting them open."
-- David McKay Wilson is a New York–based freelance writer.
Return to the BrandeisNOW homepage