Experience 'Siddhartha' through the narration of its creator, Hermann Hesse
Brandeis Theater Company adaptation is part of a year-long focus on India at Brandeis
"Siddhartha: A Jungian Fantasy in Three Movements with Prelude"
By Hermann Hesse                                                     
Adapted by Eric Hill from the novel Siddhartha and other writings by Hermann Hesse
Directed by Rick Corley            
February 5-15, 2009
Laurie Theater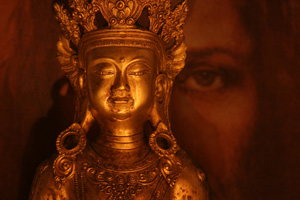 WALTHAM, Mass. – This winter experience Hermann Hesse's novel "Siddhartha" like never before – retold through the lens of its creator on the Brandeis Theater Company stage (BTC), featuring professional actors Scott Severance and Andrew Neiman with choreography by Sarah Hickler.

In this whimsical and poetic adaptation by Eric Hill, the Barbara '54 and Malcolm L. Sherman Professor of Theater Arts and BTC artistic director, Hesse himself narrates the story of young Siddhartha's ancient Indian journey into manhood and enlightenment as he explores the world and discovers himself. Spiritual happiness eludes him throughout his allegorical journey. Siddhartha's final epiphany challenges both the Buddhist and the Hindu ideals of enlightenment as he becomes one with the world, embracing the rhythms of nature.

Five years in the making, Hill said he was inspired to create the adaptation by Hesse's personal awakening through writing the novel.

"I decided to create a play in which the novella is retold through the lens of the creator, including the rebirth in rendering this beautiful prose poem of the Brahmin's son who sought out and achieved wakening as a Buddha," Hill said.

The novel was first published in 1922 by Hesse (1877-1962) – a German-Swiss novelist, poet and painter. Siddhartha was Hesse's ninth novel and was written in German. It was first published in the United States in 1951 and became especially popular during the counterculture revolution of the 1960s. In addition to Siddhartha, his best-known works include Steppenwolf and The Glass Bead Game.

"Siddhartha," directed by Rick Corley, is part of a yearlong focus on the history, culture and influence of India in a program sponsored by the Brandeis Office of Global Affairs. The goal is to strengthen student, faculty and alumni relationships with the world's largest democracy.
*Media note: Performances are open for previews and features, but not for review.
About the Brandeis Theater Company
Created in 2005, the Brandeis Theater Company is a model for training theater artists that is unique in the Boston area. The company is an ensemble of students, guest artists, faculty and staff of the Theater Arts Department committed to producing progressive, dynamic programming.

Location and Tickets
Brandeis Theater Company productions are performed in the intimate theaters of the Spingold Theater Center, located on the Brandeis University campus at 415 South St. in Waltham, Mass. Tickets are available at the box office or by calling 781-736-3400, option #5. For directions and more information, visit www.brandeis.edu/btc. Single tickets are on sale now via Internet Ticketing at http://go.brandeis.edu/BrandeisTickets.

Performance Schedule/Prices
Thursday Preview at 8pm - $16
Friday Opening at 8pm - $20
Saturday at 8pm - $20
2nd Thursday at 8pm - $18
2nd Friday at 8pm - $20
Saturday Matinee at 2pm - $18
2nd Saturday at 8pm - $20
Sunday Matinee at 2pm - $20


Return to the BrandeisNOW homepage