Cory Booker urges graduates to use their love to change the world
Newark, N.J., Mayor Cory A. Booker challenged 784 graduating seniors at Brandeis University's 58th commencement to use their love to change the world.
"Do not submit. Do not resign yourselves to what is," he said during his May 17 main address. "Don't sit it out; don't take a pass."
"You drink deeply from wells of freedom that you did not dig," Booker told the graduating seniors. "To me you have a critical decision to make. The primary choice, I believe, of your life is to accept the conditions as they exist or to accept the responsibility for changing them."
"The world is desperately in need of love."
The university awarded 784 bachelor's degrees, 679 master's degrees and 84 Ph.D.s at the ceremony in the Gosman Sports and Convocation Center.
The school's president, Jehuda Reinharz, urged the graduates to save for the future and, "disagree with respect."
"Life's lessons have to be learned over and over again," Reinharz said.
Honorary degrees were presented to six individuals including Booker; maestro James Conlon, music director of the Los Angeles Opera; mezzo-soprano Marilyn Horne, called "probably the greatest singer in the world" by Opera News; Indian environmentalist Rajendra K. Pachauri, director general of The Energy and Resources Institute; Israel Gutman, the world's foremost scholar of and authority on the Holocaust, and a survivor of the Warsaw Ghetto Uprising and the concentration camps Majdanek, Auschwitz, and Mauthausen; and Israeli industrialist and former Knesset member Stef Wertheimer.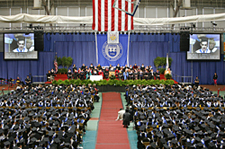 Nearly 100 members of the Class of '59 returned to campus for their 50th Reunion as part of commencement weekend. Highlights for attendees included the commencement dinner on Saturday night and joining the processional for the main ceremony. Martin Peretz '59, the longtime editor-in-chief of The New Republic, received the Brandeis Alumni Achievement Award during a weekend ceremony.
Brandeis International Business School honored its 2009 graduates with a commencement ceremony earlier in the day. Peter McPherson, president of the Association of Public and Land-grant Universities, gave the keynote address. IBS conferred degrees to 192 students from 43 countries.
Pachauri delivered the main address at The Heller School for Social Policy and Management's 48th commencement in Spingold Theater. The Heller School awarded 16 Ph.D.s and 184 master's degrees.
Christine Carberry, vice president of Program and Alliance Management at Biogen Idec, delivered the main address at the Rabb School for Continuing Studies' mini-commencement.
Return to the BrandeisNOW homepage