Nationally ranked Brandeis basketball teams prepare to tip-off season
Women open against WPI Sunday, while men take on Lasell at home Nov. 17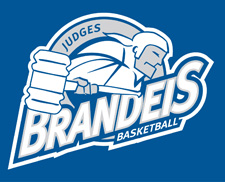 WALTHAM, Mass.-- For the second time in three years, both the Brandeis University women's and men's basketball teams have earned preseason national rankings by D3hoops.com. The Brandeis women, who fell one win shy of their first-ever Final Four last season, were ranked number nine in the nation, while the Brandeis men, who dropped a second-round NCAA tournament game, check in at number 22.

The Brandeis women's basketball team (20-8, 7-7, fifth in the University Athletic Association in 2008-09) is coached by Carol Simon, entering her twenty-third season on the sidelines. The Judges are coming off a fourth-straight berth in the NCAA Division III tournament, reaching the Elite Eight for the first time in program history. Brandeis will hope to continue a season in which they led the UAA in 3-point shooting and were in second in overall field-goal percentage by percentage points.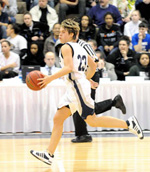 Jessica Chapin '10
The Judges return four different backcourt players who made at least 10 starts, paced by senior guard Jessica Chapin of Mendon, N.Y. The first-team All-UAA and honorable mention All-America selection led the team in nearly every major statistical category, including scoring (14.1 ppg), rebounding (6.7 rpg), assists (3.2 apg) and steals (2.9 spg), one of only two players to rank in the top 10 in the Association in all four. Chapin has also been named a
preseason All-American
by D3hoops.com. Junior guard Diana Cincotta of W. Boylson, Mass., started all but one contest at the point, earning honorable mention All-UAA honors after finishing second on the team with 62 assists (2.3 apg), 31 3-pointers and 21 steals (0.8 spg). Senior Lauren Rashford of Whitesboro, N.Y., started the season's first 17 games and was third on the team in scoring (8.1 ppg) in that span, while sophomore Morgan Kendrew of Cotuit, Mass., stepped into her spot after an injury and had the exact same scoring average. After losing two honorable mention All-UAA front-court players to graduation, senior Kasey Gieschen of Boonton Township, N.J., and junior Amber Strodthoff of DePere, Wisc., look to increase their playing time. The Judges also boast an incoming class that is six strong and hopes to contribute right off the bat.
The Brandeis women open their season on Nov. 15 at WPI. They make their home debut with the Brandeis Basketball Classic on Nov. 20 against Wentworth Institute of Technology.
The Brandeis
men's basketball team
(18-9, 10-4, second in the UAA in 2008-09) looks to return to the NCAA tournament for an unprecedented fourth consecutive season under the guidance of head coach Brian Meehan, who is in his seventh season at the helm. The Judges will have to do so without their top two leading scorers from a year ago, as All-American Steve DeLuca, the program's fifth-all-time leading scorer, and Kevin Olson, the nation's top 3-point shooter, have graduated.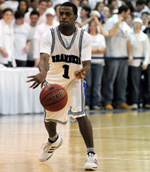 Andre Roberson '10

Despite the losses, the Judges still return five players who made at least eight starts, including second-team All-UAA selections in senior guards Andre Roberson of Springfield, Mass., and Kenny Small of Stratford, Conn. Roberson led the team in assists with 4.9 apg (second in UAA) and steals with 1.5 spg (fourth in UAA). He also averaged 10.3 points per game, fourth on the squad and second among returners, behind Small. Small averaged 11.5 points per game, 13.8 as a starter including the last seven games of the season.
Senior forward Terrell Hollins of Springfield, Mass., a second-team All-Association selection as a sophomore, is the team's top returning rebounder (5.8 rpg), finishing ninth in the UAA. He also finished tenth in the league in field-goal percentage at 50.3%. Forwards Richard Magee of Burke, Va., a senior, and junior Christian Yemga of Yaounde, Cameroon, also saw time in the starting line-up. The Judges hope that sophomore Vytas Krisus of Kvedarna, Lithuania, who scored in double figures in four UAA contests, can  pick up some of the scoring slack that departed with DeLuca and Olson.
The Judges open their season Nov. 17 at home against local rival Lasell College.  
You can listen to play-by-play of all home basketball games on WBRS 100.1 FM or on the
WBRS Web site
.
Return to the BrandeisNOW homepage