Campus forum Wednesday will test the climate for climate change
Expert panel will consider the prospects for next week's U.N. environmental summit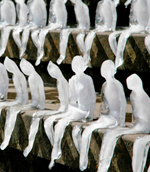 First, President Obama and other world leaders deflated hopes that the United Nations Conference on Climate Change, which begins Dec. 7 in Copenhagen, would produce a binding agreement to halt global warming. Now, the president and Chinese leader Hu Jintao have put forward new proposals for their own countries.

Given these recent pessimistic developments, what are the possible outcomes in Copenhagen next week? And what are the basic premises of the conference? Members of the campus community who are actively interested in climate-change issues will answer those questions with a program Wednesday, Dec. 2 in Usdan's International Lounge.

"Copenhagen Climate Change Conference: What's the Deal?" begins at 4:30 p.m. with a panel featuring Gary Jefferson of the Brandeis International Business School, Eloi Laurent of the Center for European Studies at Harvard University and Michael Mehling of the Ecologic Institute in Washington D.C.

Following an open Q&A, a vegetarian buffet dinner will be served. Please RSVP for the dinner by e-mail to cgees@brandeis.edu.
 
After dinner, "The Age of Stupid," a new film about a man living alone in the devastated world of 2055, will be screened. The man views old footage from 2008 and asks why humanity did not stop climate change when it had the chance.

The program is free and open to all members of the Brandeis community.
Return to the BrandeisNOW homepage