Cross country team members run to NCAA championships
Thanks to strong finishes last weekend, both the men's and women's cross-country teams will be represented at the NCAA championships.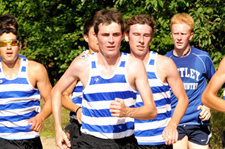 Paul Norton '11 (center)
Paul Norton '11 led three Judges' cross country runners who claimed All-New England status at the 2009 NCAA Division III New England Regional championships at Twin Brooks in Cumberland, Maine. Norton finished third overall, helping the Brandeis men to a fourth-place finish at the regionals for the second year in a row, high enough to earn a second-straight at-large berth at the NCAA championships.
Norton finished the 8K course in third place with a time of 25:17.5, a mere 1.3 seconds behind race winner Edgar Kosgey of Williams. He improved six spots from his sophomore performance and had the best finish by a Brandeis runner in at least 10 years. Also garnering All-New England status for the second year in a row were the sophomore tandem of Chris Brown '12  and Marc Boutin '12. Brown improved four places upon his finish from 2008, coming in 18th with a time of 25:52.9. Boutin dropped nine places, but still finished 32nd in 26:17.2.
With 145 points, Brandeis finished fourth behind three nationally-ranked teams: number 10 Williams (53 points), number 22 Amherst (104 points) and number 23 Keene State (132 points). They came in ahead of number 19 Southern Maine (9th place, 200 points) and number 29 Tufts (8th place, 194 points).
The Judges will compete in the national champions at Baldwin-Wallace College in Ohio. With their twenty-third trip to the NCAA Division III Championships, Brandeis has made more appearances at NCAAs than any other New England institution and rank seventh among all DIII schools. The Judges are making back-to-back appearances at nationals for the first time since 1997 and 98.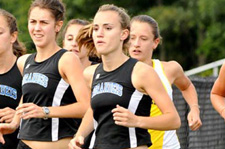 Grayce Selig '11 (center)

The Brandeis women's cross country team, paced by Grayce Selig '11, finished sixth, just missing a shot at an NCAA berth. Selig, as the seventh runner not on a team that qualified for nationals, becomes the first Brandeis woman to reach nationals since 2003.
Selig, who competed at the regionals for the first time in her career, finished in 26th place overall, covering the 6K course with a time of 22:33.8. Her finish was the best by a Brandeis woman at regionals since Gretchen Chick '04 finished 22nd in 2003.
Joining Selig on the All-New England team was Alyssa Pisarik '12. Pisarik with the team's second runner at the regionals for the second year in a row, improving from 58th place in 2008 to 32nd this year.
With 204 points and a sixth-place finish, 32nd-ranked Brandeis improved by seven places overall from 2008. They finished behind fourth-ranked MIT and fifth-ranked Middlebury, who both finished with 63 points and earned automatic bids to the NCAA championships. Number seven Williams was third with 99 points, and number 10 Amherst was fourth with 116 points.
Return to the BrandeisNOW homepage