Kiplinger names Brandeis a 'best value' for 2009-10
University ranked in the top 25 for private schools nationwide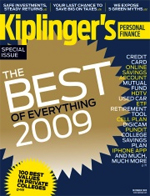 In a struggling economy, it's always nice to know that you're getting the most for your money. According to Kiplinger, which is best known for its personal finance magazine, a Brandeis education is providing just that. The company has named Brandeis a top 25 best value for private colleges and universities nationwide in 2009-10.
 
Jane Bennett Clark, the Kiplinger senior associate editor who compiled the list, cited Brandeis' commitment to financial aid as one of the major contributing factors for its high ranking. "You can see that students are still getting that need-based aid, and non-need-based aid, actually, in Brandeis' case," Clark told BrandeisNOW. "That's actually unusual for schools at the top of our list. 38 percent of its aid goes to non-need-based aid. That's pretty high for schools in the top 25."
 
The university, which was already ranked as one of the best values this year, and one of the top schools nationwide, by U.S. World & New Report, also received top marks from Clark for its academic quality. "Brandeis is, first of all, a very selective school," Clark said. "Test scores are excellent. Incoming freshman– the percent scoring over 600 in math or verbal- was 86 percent for verbal and 89 percent for math… So it's a combination of academic quality and affordability, and the total number is how we compute the value of the institution."
 
Brandeis, ranked at 24, was the fifth-highest ranked university in Massachusetts behind Harvard (five), M.I.T. (10), Tufts (22) and Boston College (23).
 
You can take a closer look at Brandeis' numbers, and view the entire "best values" list, on Kiplinger's Web site.
Return to the BrandeisNOW homepage