Art critics call new Rose exhibition 'astounding' and 'spectacular'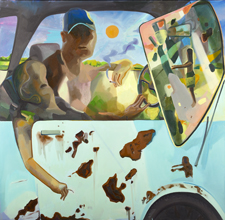 "The Rose at Brandeis: Works from the Permanent Collection," the new exhibition presented by Brandeis' Rose Art Museum, is receiving high praise from local art critics. The show, which coincides with the publication of the first comprehensive catalog of the Rose collection, features many of the museums's gems, including works by Pablo Picasso, William Avery, Paul Cezanne, Jasper Johns, Robert Motherwell and Roy Lichtenstein.
The Boston Globe's Sebastian Smee says the show "provides a true look at the scope, coherence, and sheer distinction of the Rose's permanent collection," while Metrowest Daily News art critic Chris Bergeron calls the exhibition "ambitious" and "spectacular." Click here to read Smee's review and here for Bergeron's.
"The Rose at Brandeis" will be on display through May 23. Click here for museum hours and directions.
For more information about the show, and the new Rose catalog, read the press release.
Image:
Dana Schutz
"How We Would Drive," 2007
oil on canvas
Purchased with funds from the Rose Purchase Fund Endowment and funds from the Rose Museum Board of Overseers. Image courtesy of Zach Feuer Gallery, New York
2007.9
Return to the BrandeisNOW homepage