Heller School for Social Policy and Management will celebrate its 50th anniversary this weekend

Fifty years ago, the Florence G. Heller Graduate School for Advanced Studies in Social Welfare was founded with a student body of 17 entering PhD students. Classes took place in a charming, dormered cape surrounded by a cottage-style fence. This weekend, as the Heller School for Social Policy and Management marks half a century of teaching, learning, research and public engagement with the thorniest social policy issues of the day, there is much to celebrate.
The weekend's keynote speakers are children's advocate and Children's Defense Fund founder Marion Wright Edelman, and Boston surgeon and New Yorker contributor Atul Gawande, who will talk about a better health care system. In addition, the weekend-long event features faculty and alumni workshops on asset building, healthcare reform, aging, philanthropy and other social policy issues advanced by the Heller School over the last half century. Saturday night includes a gala dinner and dancing with the octogenarian singing group, Young@Heart.
"This weekend we'll celebrate the many achievements of the Heller School and engage in a lively discussion on the future direction and shape of social policy.  Through its intellectual rigor and passionate commitment to public engagement, Heller has been on the frontier of the debate on social policy and management over the last half century," said Dean Lisa Lynch. "But we won't rest on our laurels; the global call for the kind of leadership Heller provides has never been greater."
"From the very beginning, the Heller School established itself as a pioneering institution that uniquely combines evidence-based research, graduate education, and a deep commitment to helping those groups who don't get a fair shake at participating in society," said Stuart Altman, chair of the 50th anniversary celebration, and a three-decade veteran faculty member of the Heller School who served two stints as dean.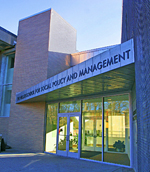 Heller may have had humble beginnings as the university's first and only professional school. But it has never had small ambitions, and the school's track record of knowledge advancing social justice speaks for itself. Within a few years of its founding, Heller faculty, in addition to teaching and conducting research, were engaged at the highest levels of government on the issues that continue to define Heller's pioneering expertise.
For example, a Heller faculty member was a consultant to President Kennedy on disability issues in 1963. The next year, a Heller professor undertook the first nationwide study of child abuse, research that informed the subsequent Child Abuse Prevention Act. In 1967, a Heller faculty member served on LBJ's Commission on Aging.
Heller pioneered the science of early childhood development, has helped shape AIDS policy in China, been a leader in health reform on both the state and national levels, and fostered sustainable international development efforts, among other achievements.
Today, as nearly fifty years ago, Heller faculty, students and alumni are leaders on domestic and global issues that affect the impoverished, the uninsured, the young and old, and those with disabilities. From a student body of 17 pursuing a PhD, Heller now boasts 520 students from around the U.S. and sixty other countries studying in five different degree programs.
"In 50 years, Heller has grown substantially," said Claudia Jacobs '70, director of communications initiatives. "We have leading research centers and institutes, a truly global faculty and student body, two great buildings. Those are the tangibles. The intangible that fuels Heller is a guiding principal to use knowledge to advance social justice."
Return to the BrandeisNOW homepage