The National Center for Jewish Film hosts screening of new Coen brothers movie
On Oct. 4, The National Center for Jewish Film hosted a pre-release screening of "A Serious Man," the new movie from Joel and Ethan Coen of "The Big Lebowski" and "Fargo" fame. Two of the movie's stars, Michael Stuhlbarg and Aaron Wolff, were on hand at the Wasserman Cinematheque for the screening, and chatted with audience members afterwards.
Wolff, who lives in Newton, Mass., said he hasn't had much time to ponder what working with the Coens on his first movie could mean for his future. "I'm only 15," he told the gathering of about 260 people. Stuhlbarg said he read for two parts in the film: the lead and the role of Uncle Arthur, before the Coen brothers told him they wanted him to play Larry Gopnik, a physics professor at a quiet Midwestern university who finds himself reeling from a barrage of life challenges and events.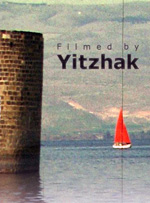 Click here to read a Boston Globe story on the screening.
The National Center for Jewish Film will host another big screening on Sunday, Oct. 18. "Filmed by Yitzhak," offers viewers the chance to see the world through the eyes of former Israeli Prime Minister Yitzhak Rabin. This 7 p.m. screening, which will be the film's U.S. premiere, is being held in commemoration of the 14th anniversary of Rabin's assassination.
For more information on the National Center for Jewish Film, visit the center's Web site.
Return to the BrandeisNOW homepage