Oct. 14 screening looks at Northern complicity in the U.S. slave trade
'Traces of the Trade' is produced by a descendent of the country's biggest slave-trading family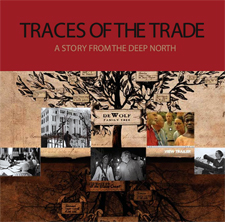 On Wednesday, Oct. 14, the Feminist Sexual Ethics Project is pleased to present a screening of the award-winning documentary "Traces of the Trade," and a discussion with the filmmaker, Katrina Browne, who is a descendant of the largest slave-trading family in U.S. history. That family, the DeWolfs, is at the center of the film.
"Browne has courageously decided to lead her family and the nation in reflecting on Northern complicity in slavery and on what past slavery means for us today," said Robert and Myra Kraft and Jacob Hiatt Professor of Christian Studies Bernadette J. Brooten, who also serves as director of the Feminist Sexual Ethics Project.
In the documentary, Browne works with her family members to retrace the "triangle trade" from New England to Ghana to Cuba and back to America. Religion plays a major role in this history, because the DeWolf family was active in the Episcopal Church, and one of its members was an Episcopal bishop. "Traces" includes a recent discussion within the Episcopal Church about its role in the slave trade and in slavery.
The screening will begin at 7 p.m. in Lown 315. Co-sponsors along with the Feminist Sexual Ethics Project include the Department of History, the Kraft-Hiatt Fund, and the Schuster Institute for Investigative Journalism.
Return to the BrandeisNOW homepage