WSRC exhibition explores creation, science and shame
Artist Roberta Paul asks provacative questions about history, religion and contemporary culture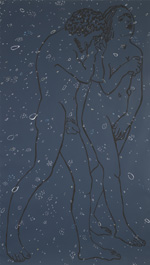 Shame: Work by Roberta Paul
Oct. 26, 2009 – Jan. 29, 2010
Kniznick Gallery
Women's Studies Research Center
WALTHAM, Mass. — This fall, the Women's Studies Research Center at Brandeis University will present an exhibition that promises to spark conversation about Eve as the original femme fatale, and her impact on contemporary culture. On view from Oct. 26, 2009 - Jan. 29, 2010, "Shame" includes work from Roberta Paul's series "Creation : Science."
Paul conceived "Creation : Science" to suggest common ground between biblical and scientific views of creation. Presented in a feminist perspective at the WSRC, the body of work will ask provocative questions about history, religion, and contemporary culture.
The paintings in the show will present an eloquent and minimal version of Masaccio's Renaissance painting of Adam and Eve, at the moment of the Expulsion from Eden. A starry sky filled with conceptual versions of various constellations overlies the figures. The repetition of the same figural image– filled with despair, regret, and shame– from one work to the next inescapably emphasizes the psychological ramifications of their fateful taste. In the paintings, as in the Biblical story, we see Eve as embodying wrongdoing and remorse, and leading to the downfall of humankind.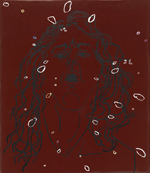 Although it is thousands of years old, the subject holds contemporary relevance. "Creation : Science" aims to promote a level of discourse between science and religion.
"At this very contentious time, we need to have a vehicle in order to have a civil conversation so that we can talk without screaming," Paul says. "Adam and Eve were evenly cast out, but we have to acknowledge that it was Eve who got the blame. We have to look at how the theme has been redefined today. In the public eye, like we've seen so often in politics and popular culture, women stand by their men. Forgiveness is expected, and blame is overlooked."
"Creation :  Science" ignites a historical exploration of shame, from Eve's decisive act to modern acts of unscrupulousness.
Related Events: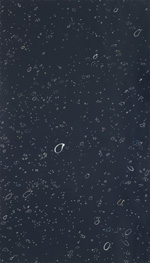 Panel and Opening Reception
Monday, Oct. 26, 2009
5 – 7 p.m.
Gallery Talk with Roberta Paul
Thursday, Dec. 3
12:30 – 1:30 p.m.
Click here for more details about all events related to the exhibit.
Kniznick Gallery Location and Hours:

Monday - Friday, 9 a.m.-5 p.m. and by appointment
781-736-8102, wsrc-arts@brandeis.edu
Women's Studies Research Center, Brandeis University
515 South St., Waltham, Mass. (across from Brandeis/Roberts commuter rail stop)
About the Women's Studies Research Center:

The Women's Studies Research Center (WSRC) identifies itself as a place where research, art, and activism converge.  Bringing together scholars, students, and artists, the WSRC is a community that thrives on the sharing of knowledge and ideas. The WSRC is home to the Kniznick Gallery, the only exhibition space in New England devoted to the display of women's art and/or art about gender. 
Images:

(Top)
"Expulsion November 12, 3761 BCE," 2007
Colored pencil, gouache and latex on paper   
92" x 52 1/2" 
Photo credit: Clements/Howcroft

(Middle)
"Self Portrait with Stars," 2007  
Latex and gouache on linen 
29 x 23"  
Photo credit: Clements/Howcroft

(Bottom)
"Serpens Caput," 2007
Colored pencil, gouache and latex on paper   
92" x 52 1/2"  
Photo credit: Clements/Howcroft
Return to the BrandeisNOW homepage