University to host U.S. premiere of 'Filmed by Yitzhak' on Oct. 18
Screening is in commemoration of the 14th anniversary of Rabin's assassination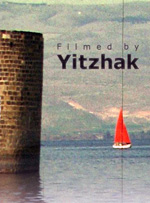 On Sunday, Oct. 18, the Consulate General of Israel to New England, in cooperation with The National Center for Jewish Film (NCJF), will present the U.S. premiere of "Filmed by Yitzhak" in a 7 p.m. screening at Brandeis University's Wasserman Cinematheque.
The documentary gives audiences the chance to see the world through the eyes of former Israeli Prime Minister Yitzhak Rabin. The film unreels the 8 mm home movies that Rabin, an avid amateur filmmaker, took in the 1960s and '70s of both his public and personal moments, including footage of the Queen of England riding her horses, the game parks of Africa, the streets of Teheran, and Rabin's private life with family and friends.
The special screening is in commemoration of the 14th anniversary of Rabin's assassination.
"The Israeli Consulate and The National Center for Jewish Film were looking for an innovative way to memorialize Israel Prime Minister Yitzhak Rabin, who was assassinated in 1995," said NCJF Associate Director Lisa Rivo. "This documentary offers an unprecedented opportunity to glimpse the private side of this public figure. NCJF was particularly interested in presenting this film because of its effective use of home movies. NCJF, the world's largest archive of Jewish film outside of Israel, has a large collection of early home movies and the center actively encourages the production of historical documentaries and the use of rare archival film materials."
Nadav Tamir, Consul General of Israel to New England will be a special guest at the screening, which is free and open to the public. There are no reserved seats. Seating is limited and on a first come first served basis, beginning one hour before show time.
Click here for directions to the Wasserman Cinematheque.
For more information about The National Center for Jewish Film, visit the center's Web site.
Return to the BrandeisNOW homepage