It will be a packed house at Sept. 24 Career Fair
70 employers from a wide variety of fields will be on hand to meet with students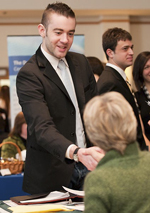 Fall 2009 Career Fair
Thursday, Sept. 24
Noon – 3 p.m.
Levin Ballroom, Usdan
Despite the down economy, Brandeis students are still in high demand. Hiatt Career Center Director Joseph Du Pont says employer spots at the Sept. 24 fall career fair, taking place from noon to 3 p.m. in Levin Ballroom, are sold out. Undergraduate and graduate students will have the opportunity to talk with spokespeople from 70 different companies and organizations representing a diverse spectrum of industries including: finance and consulting; business; biotech and science research; clinical, social and policy research; health care; high-tech; publishing, media and advertising/marketing/public relations; government; and year in service and education.
"In a tough economic climate we are thrilled and pleasantly surprised that our career fair has actually expanded in size this year when the recruiting trends are down at other campuses," said Du Pont. "Moreover, the Hiatt team has worked extremely hard this summer to ensure that organizations view the career fair as just the opening salvo in becoming partners with Brandeis on a host of levels to build their brand in mutually beneficial ways- from recruiting, to engaging with faculty in research initiatives and other creative avenues."
Students can log in to Hiatt NACElink for details about employers and to register for preparation workshops.
While Thursday's fair will be the largest employer recruiting event of the academic year, it is just one of many events that Hiatt is hosting over the course of the fall and spring semesters.  The center will feature summits in government, biotech and the environment, hold five career fairs in different cities during the winter intercession, work in conjunction with the Heller School for Social Policy and Management to coordinate a job trip to Washington D.C. for students interested in policy, nonprofits and NGOs, and continue with programs such as the Recruiter in Residence series where employers come to Hiatt to hold brown bag lunches and informational interviews with students. 
For more information on any of Hiatt's programs, visit the center's Web site.
Return to the BrandeisNOW homepage