Fall 2009 State of the Arts magazine is available now
Issue includes a feature on the conducting life of Brandeis music student Nicholas Alexander Brown '10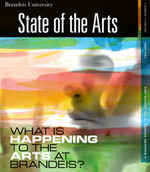 Download the fall issue of State of the Arts.

The latest issue of State of the Arts magazine provides a colorful glimpse of all the artistic events that are happening at Brandeis- from previews of this year's Brandeis Theater Company and music concert seasons, to Department of Fine Arts exhibitions and the upcoming Rose show that will celebrate the first comprehensive catalog of the museum's collection.
State also features stories on some of the people who are making art on campus, including this article by Nicholas Alexander Brown '10, who writes about his experience as a current Brandeis music student, and, hopefully, a future conductor of a major orchestra.     
Slosberg to Salzburg
Conducting Life as a Brandeis Music Student
Some people say I eat, sleep, and breathe in the Brandeis Department of Music. I don't really. But I do everything I can to support it and take advantage of the freedom it offers me to pursue my creative dreams. My life as a music major is filled with amazing opportunities both on and off campus. As a conductor, French horn player, and baritone vocalist, I continue to be inspired by the vibrant arts life at Brandeis, which is what first drew me to this university.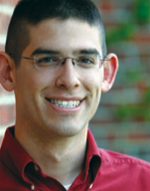 My goal is to be a conductor of a major orchestra one day. I find it thrilling to interpret the work of composers, to take a  series of black dots on a piece of paper and make them come alive as a living, breathing, emotional experience. Conducting allows you to explore all aspects of making music—what the composer wrote; the historical and cultural context; and how the performers and instruments interact. A composer doesn't  make a sound, and yet I lead the creation of sound. There is no direct path to becoming a conductor. There's a lot of luck and net working involved. As an undergraduate you can't major in conducting at Brandeis, so what I'm trying to do is get a broad music education, learn the repertoire, and build foundations.
Through the department's support I have created two new musical organizations based at Brandeis: the Irving Fine Society Singers & Ensemble, dedicated to the celebrated American composer who founded the School of the Creative Arts; and the Boston Unhinged Chamber Players, which comprises undergraduate and professional musicians performing large-scale chamber works.
I also serve as the assistant conductor and ensemble manager for the Brandeis-Wellesley Orchestra and the Brandeis University Chorus and Chamber Choir; assistant to the concert manager, whom I help to coordinate nearly seventy concerts and recitals a year in Slosberg Music Center; and undergraduate department representative—a liaison between music students and faculty on scheduling, courses, and advising. This is in addition to taking five courses a semester and attempting to complete a second major in history. Leonard Bernstein once said, "To achieve great things, two things are needed: a plan, and not quite enough time."
In 2008 I organized the Brandeis University Chorus's concert tour to Germany and Austria, the first international tour by any student ensemble in the university's history. We performed in Salzburg and Munich and visited Mozart's birthplace. The experience of performing century-old music in the halls it was written for, honoring the past, immersing ourselves in other cultures, and becoming a closer Brandeis family taught us that, no matter where you are in the world, music affects the soul and can help bring us together as one human race. Perhaps the most emotional part of the trip was our performance at the Dachau Concentration Camp. The mood of the group was very somber as we entered through the gate adorned with the words arbeit macht frei (work makes you free). Nobody spoke until we quietly assembled to  sing a Hebrew psalm setting, followed by a group recitation of the Jewish Kaddish prayer.
A vital element of my education has been participating in the rich Boston cultural scene, attending music, theater, visual arts, and dance performances. I have had the honor of  singing with the Tanglewood Festival Chorus; interning with the Boston Symphony Orchestra public relations office; and serving in the 215th Army Band of the Massachusetts Army National Guard as a French horn player. I have met musical legends  James Levine, James Conlon, Renee Fleming, and Elliot Carter. These professional experiences, combined with my studies, have opened my eyes to the important role music plays in shaping society.
At Brandeis, I've explored the ideal of the artist as citizen. Last year I had the privilege to conduct a concert of world premieres by Edwin Geist, an exceptional composer whose life  and music were silenced by the Holocaust. Through Brandeis grants, I spent my summers traveling in Europe to research Paul Hindemith's music in Frankfurt and Beethoven's symphonic writing in Berlin, Bonn, and Vienna. To have these hands-on  experiences has been transformational, and I feel blessed to attend a university that supports the ambitions of its students to the extent that Brandeis does.
I don't think I'm really that unusual. Most Brandeis students are engaged in a dizzying blend of course work and activities that nurture our aspirations and shape our identities not just as students but also as human beings. I invite you to attend one of our student concerts at Slosberg this semester and experience the same kind of transformation that I have known. As Brandeis's mission statement says, "from artist to audience, from generation to generation—across time, boundaries, and cultures."
Return to the BrandeisNOW homepage