$2.2 million NIH grant will boost electron microscopy in Grigorieff lab
Biochemist studies protein complexes in neurodegenerative diseases
Researchers' ability to rapidly detect the macromolecular protein clumps implicated in Alzheimer's and other neurodegenerative diseases will soon get a sizable boost in the lab of biochemist and Howard Hughes Medical Investigator Nikolaus Grigorieff. The National Institutes of Health has just awarded Grigorieff a $2.2 million grant for a second high-resolution electron microscope (EM) in his lab.
Grigorieff's lab studies the three-dimensional (3D) structure of proteins and protein complexes using electron cryo-microscopy, generally focusing on proteins that are difficult to study by more traditional techniques such as X-ray crystallography and nuclear magnetic resonance (NMR). 
"This grant will enable my lab to do more high-resolution cryo-EM work of the kind we already do," said Grigorieff. The new EM, which will take the better part of a year to install in Grigorieff's Rosenstiel lab, includes a digital detector to collect image data more rapidly than the lab is currently able to using conventional film photography. As a result, the new microscope will also make it possible to accommodate the higher demand on the lab created by colleague Daniela Nicastro, who uses EM to study the molecular motors in flagella.
Earlier this year, Grigorieff and colleagues at the Leibniz Institute in Germany took an important step toward demystifying the way protein clumps form during the development of neurodegenerative disease. Using EM, the researchers showed a 3D image of a spaghetti-like protein mass called an amyloid fibril formed by the A-beta peptide in the brains of Alzheimer's patients.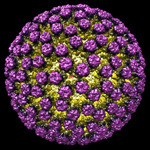 Grigorieff said his lab made an image of the A-beta fibril at a resolution of eight Angstroms, revealing useful detail at a magnification of roughly a million times. Short of atomic resolution by a factor of 2.5 to 3, the image revealed how the peptide, a series of linked amino acids, was arranged in the tape-like fibril.
"People had been guessing for decades what these fibrils look like, but now we have an actual 3D image," said Grigorieff. Traditionally, the techniques of X-ray crystallography and solution NMR have been used to determine atomic structure, but these fibrils usually do not form crystals suitable for X-ray diffraction and are too large for solution NMR analysis. Under EM, however, proteins and protein complexes with molecular weights that range from a few thousand to several million Daltons can be visualized.
"The next step will be a 3D image that tells us exactly where all the amino acids are," postulates Grigorieff. "This will tell us more about the chemical and biological properties of A-beta fibrils that we need to know to understand their role in Alzheimer's."
Return to the BrandeisNOW homepage