'Meet the Author' continues Wednesday with Marian Anderson's stirring story
Author Raymond Arsenault, MA '74, PhD '81, will discuss 'The Sound of Freedom'
The Office of Communications' free "Meet the Author" series continues on Nov. 11 with a focus on Marian Anderson, the brilliant vocalist whose historic performance at the Lincoln Memorial in 1939 helped to fuel the Civil Rights struggle in the United States. Historian Raymond Arsenault (Brandeis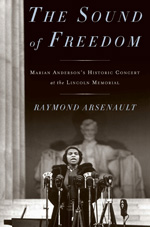 MA '74; Ph.D., '81) will discuss his work, "The Sound of Freedom: Marian Anderson, the Lincoln Memorial, and the Concert that Awakened America."

"In this moment of change and hope," wrote Blanche Wiesen Cook, author of 'Eleanor Roosevelt,' "Raymond Arsenault has gifted us with the perfect book for contemplation and activism."

As the book's publisher, Bloomsbury Press, notes, "Easter 2009 will mark the seventieth anniversary of one of the most dramatic concerts in American history: world famous African-American contralto Marian Anderson's concert at the Lincoln Memorial." Arsenault's work is the story of Anderson's journey to that time, which transformed her into an American hero and a major figure of the Civil Rights movement.

Arsenault is the John Hope Franklin Professor of Southern History and co-director of the Florida Studies Program at the University of South Florida, St. Petersburg.

Free and open to the public, his appearance in the Meet the Author series is scheduled for Nov. 11 at 4 p.m. in the Rapaporte Treasure Hall, Goldfarb Library. Books will be on sale and the author will sign copies at the conclusion of the program.
Return to the BrandeisNOW homepage