From Facebook to YouTube, Sept. 10-11 Ethics Center conference examines technology's impact on democracy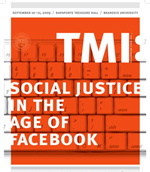 Do YouTube, Twitter, and texting mean greater access, or simply wider and deeper divisions among individuals and groups? Does technology allow societies to achieve democracy? Or empower dictatorships to oppress their people? Are we all entitled to free use of content on the Internet?
Distinguished visiting experts, Brandeis professors and students consider these and other questions in a conference sponsored by the International Center for Ethics, Justice and Public Life Thursday, Sept. 10 and Friday, Sept. 11 in Rapaporte Treasure Hall, Goldfarb Library.

The conference, "TMI (Too Much Information): Social Justice in the Age of Facebook," explores the latest developments in Internet use, journalism, and political and economic equality.

Among the guests on Thursday are Charles Nesson, William F. Weld Professor of Law at Harvard Law School and founder of Harvard's Berkman Center for Internet and Society, who will speak at 2 p.m., and Tracy Mitrano, director of IT Policy and Law at Cornell University, who will speak at 6:30 pm.

The final session on Friday will be a Student Verdict using Twitter, YouTube and other new media to comment on the issues raised by the expert presenters. Students can sign up at the door on Thursday to participate in this part of the program.

You can watch live streaming of the conference here, or follow the development of the conference and The Student Verdict on this blog.
Return to the BrandeisNOW homepage