Ethics Center's 'TMI' conference continues with The Student Verdict on Friday, Sept. 11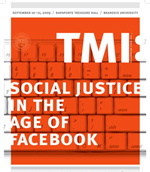 Do the new media that are revolutionizing communications deepen the divide between rich and poor, North and South, or do they represent an opportunity to narrow the divisions?

That is the topic of Samuel J. Klein, director of content for One Laptop per Child, at this morning's session of "TMI: Social Justice in the Age of Facebook," a conference sponsored by the International Center for Ethics, Justice and Public Life in Rapaporte Treasure Hall, Goldfarb Library. The session begins at 9 a.m.

One Laptop per Child is a nonprofit foundation dedicated to creating educational opportunities for the world's poorest children by providing them with low-cost, low-power, connected laptops with content and software designed for self-empowered learning.

Klein will be followed faculty respondent Theodore Johnson, Assistant Professor of Coexistence and Conflict.

Then conference then will conclude with The Student Verdict, in which undergraduate students will report and comment on principal topics of the conference, using a variety of new and traditional media methods and formats.

You can watch live streaming of the conference here, or follow the development of the conference and The Student Verdict on this blog.
Return to the BrandeisNOW homepage