University presenting amazing arts events for winter/spring 2010
Each year, Brandeis University presents hundreds of arts events that are open to the public. Here are some upcoming highlights from this semester's lineup: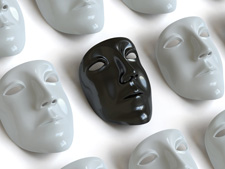 1. Funnyhouse of a Negro
By Adrienne Kennedy
Directed by David R. Gammons
Feb. 4 – 14
Brandeis Theater Company. This provocative play from the 1960s explores the psychological dimensions of race and identity in America. Sarah is young, black, and obsessed with whiteness.  She loses herself in the madness of her own internal funnyhouse, imagining multiple versions of self. Rarely produced, the play was highly controversial in its time, but its issues of racial and ethnic identity and assimilation remain relevant even today.
 
Directed by award-winning guest artist David Gammons, who is well-known to Boston critics and audiences for his daring body of work.
Contact: David Colfer
dcolfer@brandeis.edu
781-736-3403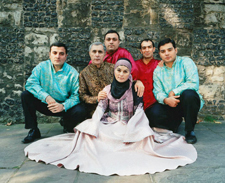 2. Alim and Fargana Qasimov: The Spiritual Music of Azerbaijan
Saturday, March 6, 8 p.m.
MusicUnitesUS. "To be a musician, there has to be a fire burning in you," says Alim Qasimov, who has been hailed as one of the 20th century's greatest singers. He has revealed powerful dimensions to Azerbaijan's classical vocal music, mugham, which originated in the great cultural centers of North Africa, the Middle East, West Asia, and Central Asia more than a millennium ago.
 
For this U.S. residency, Fargana Qasimov joins her father on vocals, together with a four-person ensemble. The residency is curated by ethnomusicologist Theodore Levin of Dartmouth College and produced in collaboration with the Aga Khan Trust for Culture. Brandeis sponsors open classes, lectures, and symposia on related topics.
Contact: Judy Eissenberg
eissenberg@brandeis.edu
781-736-3315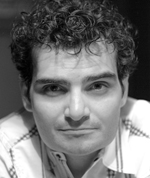 3. Cocktail Time in Cuba
By Rogelio Martinez
March 11-14
Brandeis Theatre Company partners with Off-Broadway's Primary Stages for a workshop production of a new political thriller. Michael, a young American journalist, travels to Cuba with the hope of interviewing Fidel Castro, but first he must navigate a post-Communist labyrinth of mysteries. Time stands still as Michael becomes lost in a dangerous game, caught between truth, love, and revolution. This production was funded by Brandeis parents and alumni through the Brandeis Arts Council.
 
Rogelio Martinez was born in Sancti-Spiritus, Cuba, and came to the United States in 1980 on the Mariel boatlift.
Elliot Fox '89 is the Managing Director of New York City's Primary Stages: "I am thrilled to have this opportunity to reconnect with my roots and the team at the Brandeis Department of Theater Arts, which inspired much of my work as an artist and producer."
Contact: David Colfer
dcolfer@brandeis.edu
781-736-3403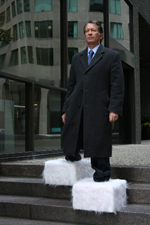 4. Prospect I and II
Studio Art Exhibitions
March 17-May 2
Brandeis's Post-Baccalaureate program in studio art was recently profiled in The New York Times as among the best in the country. These two group exhibitions feature innovative original work in painting, sculpture, drawing, and printmaking.
Contact: Prof. Markus Baezinger (head of studio art)
 
5. The Michael Dowling Project
Semester-long
Unveiled April 27
Michael Dowling has been called "one of America's most innovative and courageous artists." For more than 20 years he has been creating award-winning public art that responds to and relates to the natural environment. His multi-disciplinary work combines painting, sculpture, and interactive elements. In addition to teaching, he offers special educational programs focused on inner city and at-risk youth. He invites people to gain awareness of their communities by participating in the creation of site specific public art projects in which they explore issues unique to their collective experiences.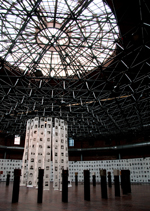 Since 2008, Brandeis has been in discussion with Michael about creating a large-scale, original work of art for the campus during the Festival of the Creative Arts. As the 2009-10 Nathan and Ruth Ann Perlmutter Artist-in-Residency he will do so. The theme will reflect Brandeis's identity/core values. The artwork will be created in collaboration with our students, faculty, staff, and alumni over several months. In the end, more than 10,000 people could see this artwork.  The exact location and theme of his art installation will be determined during the next two months. Funded by the Nathan and Ruth Ann Perlmutter Artist-in-Residency Award (Anti-Defamation League)
Contact: Ingrid Schorr
ingrids@brandeis.edu
781-736-5008
 
6. The Songs and Poems of Harlem
Brandeis University Chorus
Saturday, April 17, 8 p.m.
Brandeis students celebrate the words and music of the great artists who have contributed to the cultural legacy of Harlem: Langston Hughes, Claude McKay, Duke Ellington, Jerome Kern, Countee Cullen, James Weldon Johnson, and George Gershwin. James Olesen, director
Contact: James Olesen
olesen@brandeis.edu
781-736-3324
 
7. Pacific Rim Brandeis
An International Cultural Exchange
April 26-27
Brandeis hosts a unique cultural exchange between Korea and the U.S. when the Lydian String Quartet (East Coast) – Professors Daniel Stepner, Judith Eissenberg, Mary Ruth Ray, and Joshua Gordon -- hosts an extraordinary collaboration with the Contemporary Music Ensemble of Korea and California's Del Sol Quartet (West Coast) in Slosberg Music Center.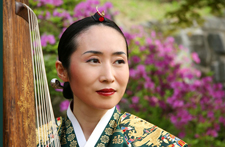 Contemporary Music Ensemble Korea with the Lydian String Quartet
Monday, April 26, 7 p.m.
A collaborative venture of UC Santa Cruz Pacific Rim Festival, the Lydian String Quartet, and Contemporary Music Ensemble Korea. Chung Soo-neon (haegeum), Kim Sang-hun (ajaeng), Kim Jeong-seung (daegeum) and Yi Ji-young (gayageum). The performance features premieres of new music incorporating both Western and traditional Korean instruments. Participating composers, including Brandeis faculty Yu-Hui Chang and David Rakowski, represent the musical languages of Cambodia, Japan, China, Taiwan, the Philippines, Korea, Bosnia, and the United States.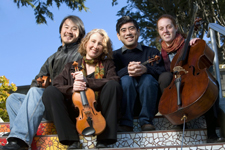 Contemporary Music Ensemble Korea with the Del Sol Quartet
Tuesday, April 27, 7 p.m.
The famed Korean ensemble is joined by San Francisco's leading string quartet. Acclaimed for their "imagination and bravery," Hannah Addario-Berry, Charlton Lee, Kate Stenberg and Rick Shinozak are known to break traditional boundaries for classical music and often collaborate across disciplines, notably on the world premiere of Divide Light, a multi-media opera uniting new music with the visual arts and poetry.  Their collaborations with international artists have spanned the globe from Russia to Cambodia.
Contact: Judy Eissenberg (Lydians)
eissenberg@brandeis.edu
781-736-3315
 
8. Leonard Bernstein Festival of the Creative Arts
April 27 -May 2
Experience the unexpected at this daring annual arts happening. The Festival of the Creative Arts was founded in 1952 by legendary American composer and Brandeis faculty member Leonard Bernstein. Each spring, the Brandeis campus blooms in a celebration of creativity and community, with work by international and regional artists as well as Brandeis faculty and students.  All events are free and open to the public.
 
Performing Arts Festival
Sunday, April 26, 1–5 p.m.
Throughout the afternoon, more than 200 actors, singers, dancers, and musicians give free performances across the Brandeis campus. Last year's event drew an estimated 3,000 people. 
Contact: Ingrid Schorr
ingrids@brandeis.edu
781-736-5008
For more information on the arts at Brandeis, visit the Office of the Arts Web site.
Return to the BrandeisNOW homepage