Jan. 28 CGES panel will assess Afghanistan, before and after the war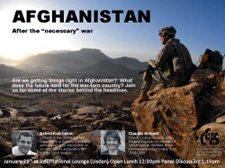 The Center for German and European Studies will host a discussion of the past, present and future of Afghanistan on Thursday, Jan. 28, in International Lounge, Usdan Student Center.
Buffet lunch will be served beginning at 12:30 p.m., followed by presentations by three panelists and an open discussion. All members of the Brandeis community are invited.
Panelists are:
Asbed Kotchikian is a lecturer in the Global Studies Program at Bentley University. Kotchikian is an authority on conditions in nations formerly dominated by the Soviet Union. He will discuss the society, politics and culture of Afghanistan and summarize past foreign invasions of the country.
Claudia Schuett is Deputy Consul General of the Federal Republic of Germany in New England. From 2003 to 2004, she served as the Gender and Civil Society Advisor at the German Embassy in Kabul, Afghanistan. She will reflect on her experience and talk on the gargantuan task of healing and building Afghanistan.
Asadullah Pasoon is a Fulbright Scholar from Kabul, currently studying for an MBA at Brandeis' International Business School. In 2007, Asadullah received his undergraduate degree in Economics from Kabul University. He worked as an investment officer in Kabul until 2008. Asadullah will serve as respondent, sharing his views and experiences on the historical and current situation in Afghanistan.
Return to the BrandeisNOW homepage