Cohen Center finds Israel studies are growing in higher education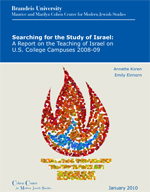 The Maurice & Marilyn Cohen Center for Modern Jewish Studies has released an update of a 2006 report, "Searching for the Study of Israel," that examines the scope of academic courses being taught about Israel on more than 300 leading American college and university campuses. This new research find that the state of education about Israel has improved since the original study. A comparison of the 246 institutions included in both studies shows a 69 percent growth in courses that focus specifically on Israel over the three-year period.

Click here to download a PDF version of the report.
Click here to read a Jewish Telegraphic Agency (JTA) article on the study.
Click here to read the Jerusalem Post's coverage.
Click here to read Inside Higher Ed's story.
About the Cohen Center
The Cohen Center for Modern Jewish Studies, founded in 1980, is a preeminent center for the social-scientific study of contemporary Jewish life. Faculty and staff from a number of disciplines, along with graduate and undergraduate students, conduct a broad range of studies of Jewish life that inform scholarly understanding of contemporary Jewry and influence Jewish communal policies. The center's recent work includes path-breaking studies of Jewish education and Jewish identity.
In recent years, the Cohen Center has extended its reach by becoming the home to two new research-and-training institutes—the Steinhardt Social Research Institute and the Fisher-Bernstein Institute for Jewish Philanthropy and Leadership. Steinhardt and Fisher-Bernstein share the Cohen Center's dedication to understanding contemporary Jewry and making scholarship available to academics, students, and policy-makers.
Return to the BrandeisNOW homepage