Bernstein Festival of the Creative Arts will feature a colorful mix of projects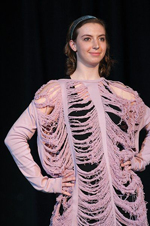 This spring, more than 100 students will participate in visual art, music, theater, and multidisciplinary projects at Brandeis during the Leonard Bernstein Festival of the Creative Arts, sponsored by the Office of the Arts. Grants are awarded to Brandeis undergraduates, graduate students, faculty, and staff to produce innovative and artistic work that offers opportunities to create, participate, and learn about the arts. The grants jury evaluates applications on the quality and innovation of the project, and the potential for broad involvement of the Brandeis community during the festival. The jury is proud to announce the following grant recipients:

Performing Arts
Lynda Bachman '10, $130 for Devised Theater, performance of new theater work developed with high school students from the Waltham Boys and Girls Club.         
Jared Field '11 and Jessie Field '13, $170 for Harold: The Musical, performance of original musical theater work.    
Hank Lin '10, $100 for The Storytellers' Play, performance of original play about storytellers of the past, including Hans Christian Andersen, Wilhelm Grimm, and Scheherazade       
Theater graduate students Chesapeake Westveer, Benjamin Williams, J Jumbelic, $500 for Brandeis Joshua Light Show, a live response, using techniques of visual media pioneer Joshua White, to music performed in the Festival of the Arts
Brandeis Electro-Acoustic Music Studio, $750 for BEAMS Half-Marathon, a concert devoted to electronic and electro-acoustic music                   
Max Dulaney (GRAD), $200 for Piece for Flute, performance of an original work that explores the sonic world of the flute
Too Cheap for Instruments, $400 to program a folk-music stage at the Festival of the Arts

Visual Arts/Multidisciplinary Projects
Fashion Design Club, $280 for Bad Romance: The Buildings of Brandeis Presented in an Entirely Gaga-esque Fashion, a fashion show featuring original designs inspired by buildings on the Brandeis campus.
Mathiew Greenfield (GRAD), $400 for Karaoke Booth, interactive sculpture that explores the transformative aspects of karaoke performance; and $400 for Owl's Nest, performance/sculpture project that explores Brandeis's current relationship to the Rose Art Museum as well as the events of early 2009
Stacey Ha '12, $150 for Faces to Feet, a series of large drawings of feet of individuals from various heritages and backgrounds   
Catherine McConnell '10 and Hannah Richman '10, $350 for Collaboration and Connection, three paintings that explore interconnectedness of concepts and artists         
JJ du Plessis (GRAD), $420 for untitled outdoor sculpture that recalls a schoolyard jungle gym structure
Elana Sandler '10, $300 for Artistic Translation: Exchanging Meanings Through Media, an exchange and exhibition of works among writers, musicians, and visual artists.         
Miriam von Guggenberg '10, $250 for Cultivating Compassion, a performance/ritual that explores identity and action
The grant jury for the 2010 festival comprised Ingrid Schorr and Scott Edmiston of the Office of the Arts, Stephanie Grimes (Student Activities), Samantha Richert  (GRAD, Theater Arts), Shawna Kelley (staff, Music), Catherine McConnell '10 (Fine Arts), Jennifer Cleary and David Wilson (faculty, Theater Arts), Nicholas A. Brown '10 (Music), Max Price '11 (English and American Literature), David Rakowski (faculty, Music), and Joseph Wardwell (faculty, Fine Arts).

The Festival of the Arts takes place on the Brandeis campus April 28 – May 2, 2010. A complete schedule of events will be made public in early April.
Click here to see some of what happened at last year's festival.

Images (top to bottom):
Fashion Design Club/Nicole Dettling: "Bad Romance"
Miriam von Guggenberg: "Cultivating Meanings"
Stacey Ha: "Faces to Feet"
Mathiew Greenfield: "Plush Apparatus"
Return to the BrandeisNOW homepage