BTC continues season with 'Funnyhouse of a Negro'
Adrienne Kennedy's daring debut play runs through Feb. 14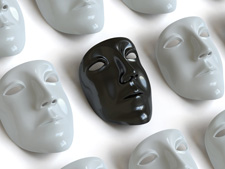 "Funnyhouse of a Negro"
By Adrienne Kennedy
Directed by David R. Gammons
Choreography by Susan Dibble
Feb. 4-14, 2010
Spingold Theater Center
 
The Brandeis Theater Company continues its 2009-10 season with Adrienne Kennedy's ground-breaking Obie Award-winning first play, "Funnyhouse of a Negro," directed by Elliot Norton Award-winning director David R. Gammons with choreography and movement by Susan Dibble. Performances run Feb. 4-14 on the Brandeis University campus; tickets range in price from $18-$20 and can be purchased through Brandeis Tickets, located in the Shapiro Campus Center, by phone at 781-736-3400 or on the Brandeis Tickets Web site.
 
Written in 1961, Kennedy's provocative and fantastical drama fearlessly explores the psychological dimensions of race and identity in America. The story focuses on Sarah, a young African-American woman who is obsessed with whiteness to the point that she takes on the personas of Queen Victoria, the Duchess of Hapsburg and Jesus. Sarah's obsession with whiteness and the rejection of her own color and race leads to an irreversible act of self-destruction. This play is one of the most read and studied Adrienne Kennedy plays, yet one of the most rarely performed due to the extraordinary demands of the text, story and staging.
 
Director David R. Gammons first encountered Adrienne Kennedy and her play as an undergraduate student at Harvard University where he was able to study under her guidance. "Studying playwriting with Adrianne fundamentally transformed the way I viewed language, the creative act and the art and craft of theatre," said Gammons, who makes his Brandeis Theater Company debut with this production. He has helmed award- winning productions for many Boston theaters including "Blackbird" for Speakeasy Stage Company, "Titus Andronicus" for Actors' Shakespeare Project and "The Lieutenant of Inishmore" for New Repertory Theater. He is also a designer, visual artist and theater educator, currently in his tenth year as the director of the theater program at Concord Academy.
 
Adrienne Kennedy is a three-time Obie Award-winning playwright whose works have been widely anthologized and performed around the world. Among her many honors are the Guggenheim fellowship and the American Academy of Arts and Letters award. Her plays consistently challenge the notions of race and gender, her story telling relies on nonlinear narratives, dramatic and surrealistic images and characters living in dream-like states, frequently speaking in metaphor. Hers is an original voice in the theater, pre-dating the post-modern theater movement.
 
The Brandeis Theater Company production of "Funnyhouse of a Negro" features graduate and undergraduate student performers and designers. Guest artists for this production include Siobhan Juanita Brown as "Mother" and Jayscott Crosley, serving as the production's stage manager. Scenic design is by Carlos Aguilar, MFA'11, lighting design by Benjamin Williams, MFA'11, costume design by Elisabetta Polito, MFA'11, and sound design by Brandeis faculty member David Wilson.
 
Performances of 'Funnyhouse of a Negro' run Feb. 4-14 in the Spingold Theater Center's Laurie Theater located on the Brandeis campus, 415 South Street, Waltham, Mass.
 
The 2009-10 Brandeis Theater Company season is made possible through generous support from the Laurie Foundation, the Robin, Barbara and Malcolm L. Sherman Endowment for the Performing Arts, the Brandeis Arts Council and the Jaffe Foundation.
Return to the BrandeisNOW homepage