Joe Wardwell's paintings provide quite a view
His original perspective on the American landscape is catching the eye of both curators and critics
This slideshow requires Flash 8 or later
Boston's Museum of Fine Arts is home to works by some of history's most renowned artists, including Rembrandt, van Gogh, Renoir, John Singer Sargent, David Hockney and Andy Warhol. That's not bad company, especially for Brandeis Assistant Professor of Painting Joseph M. Wardwell, whose work is now hanging right down the hall from them.
 
Wardwell's pieces in the MFA's contemporary exhibition "Seeing Songs," which runs through Feb. 21, feature landscapes of the American wilderness that look to be straight out of the 19th century's famed Hudson River School. But Wardwell's work takes a distinctly 20th century twist with the stylized rock lyrics from the likes of The Flaming Lips and Def Leppard that flow over the natural scenery.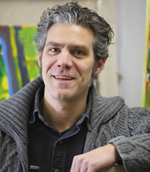 Joe Wardwell
"That type of landscape image had so much to do with defining American identity," Wardwell says. "Even now, images of the unfettered wilderness play such a fundamental role in our identity, like when we see snowcapped mountains in beer commercials or trucks rolling over rugged terrain in auto ads. Combining that sort of American wilderness with the lyrics from a Neil Young song allows me to comment on where we are now, and touch on, in a poppy way, where things are going."  
Wardwell's artistic commentary has resonated with a growing audience in the artistic community, including William Stover, who curated the MFA show, and Russell LaMontagne, who hosted a
Wardwell exhibition
at his South Boston gallery last year (LaMontagne also represents another Brandeis artist, Assistant Professor of Sculpture
Tory Fair
). "Joe's work is a great combination of taking a conceptual idea and applying it in a painterly context," LaMontagne says. "He's taken the time to establish a body of work and a career that is very promising as to where it's going to go."
The LaMontagne Gallery's Wardwell show, "Die Young," the title of which comes from the Neil Young song, "Hey, Hey, My, My (Into the Black)," was named one of the city's ten exhibitions of 2009 by both The Boston Globe and The Boston Phoenix. In her original review, the Globe's Cate McQuaid said, "There's such rock 'n' roll flash and humor to Joe Wardwell's paintings at LaMontagne Gallery, it's easy to miss what a superb painter he is… The contrast of text and image introduces irony, pathos, and political consciousness into the scene." Greg Cook of the Phoenix said, "The canvases felt like album covers for the American Dream."
 
While Wardwell says he was always into art in grade school, he didn't head off to college with an artistic vision in mind. "I didn't think I was going to major in art," Wardwell says, "but then I realized that I was always happier when I was taking an art class, and when I wasn't, I was miserable."
 
After graduation, Wardwell worked at a Seattle studio while he produced a portfolio to apply to graduate school. In 1997 he moved east to attend Boston University, and the West Coast boy hasn't gone home since. He came to Brandeis as an adjunct professor in 2001, and was hired in his current tenure-track position in 2007.

Off campus, Wardwell says he wants to "amp up the scale" of his paintings. For a guy who's already on display next to van Gogh and Rembrandt, it's clear the scale is tipping in the right direction.
Return to the BrandeisNOW homepage