In series of talks, BOO and Hillel to consider the religious role of Orthodox women
On Wednesday, April 28, the Brandeis Orthodox Organization (BOO) will host Rabba Sara Hurwitz, who will be speaking on the topic of "Can Orthodox Women be Rabbis?" Her talk will begin at 8 p.m. in the Usdan Student Center's International Lounge.

Rabba Hurwitz is part of the rabbinic staff at the Hebrew Institute of Riverdale, a Modern Orthodox synagogue in Riverdale, NY. She also serves as dean of Yeshivat Maharat, the first Orthodox institution to confirm women as spiritual and halakhic leaders.

Her ordination has sparked debate within the Orthodox community over the leadership opportunities for women in the movement. Most recently, this evolving conversation was reported on in the Wall Street Journal.

Rabba Hurwitz graduated from the Drisha Institute for Jewish Education's Scholars Circle Program and also studied under the supervision of Rabbi Avi Weiss. She was ordained by Rabbis Weiss, Daniel Sperber, and Joshua Maroof. Rabba Hurwitz was named one of the Jewish Week's "36 under 36," as well as a "top pick" in the Forward 50 most influential Jewish leaders in 2009.

In a related vein, Hillel at Brandeis will host Wendy Amsellem, director of the Dr. Beth Samuels High School Programs and a teacher at the Drisha Institute, for a pair of talks this weekend. The Drisha Institute is recognized as a center for the advanced study of Jewish classical texts by women. Many current Brandeis students and alumni have studied at the institute.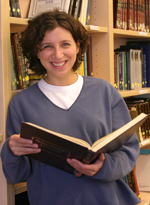 On Friday, April 30, at 9 p.m., Amsellem will discuss "Elisha ben Abuyah: The High Road to Heresy" in Sherman Center's Feldberg Lounge. Despite a promising start as a first century sage and scholar, Elisha ben Abuyah left the spiritual path and became a notorious heretic. Amsellem will explore how that happened.
In a second talk at 1:15 p.m. on Saturday, May 1, Amsellem will focus on "Ima Shalom: A Life in Four Parts." Shalom, the wife of Rabbi Eliezer and the sister of Rabban Gamliel, was occasionally at the center of rabbinic happenings and, at other times, torn apart by them. Amsellem and those in attendance will study the passages in the Talmud Bavli that describe Shalom's life and explore the privileges, responsibilities and limitations of being a woman connected to powerful men. This conversation will take place in the BOO Beit Midrash, located in the basement of Shapiro dormitory. Members of the public wishing to attend should contact Brandeis Hillel, at 781-736-3583, to arrange for entrance to the dormitory.
"Though Rabba Hurwitz and Ms. Amsellem represent two separate institutions and their coming to Brandeis in the same week is a coincidence, it does highlight the expanding opportunities— educationally and professionally— for women in the Orthodox community," said Toby Goldfisher Kaplowitz, co-director of the Orthodox Union's Self Jewish Learning Initiative on Campus at Brandeis.
All events are free and open to the public.
Return to the BrandeisNOW homepage