Heller Highlights hot off the press
Newsletter details the school's research and scholarship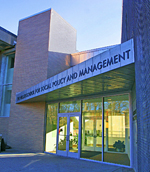 The newest issue of Heller Highlights is now available. The newsletter covers all Heller School for Social Policy and Management publications, grant awards, presentations, and other scholarship conducted by Heller faculty and researchers during the fall semester of 2009. The newsletter is organized by topic so that you can easily find information on work in the areas for which Heller is best known, including aging; assets and inequalities; behavioral health; children, youth, and families; health policy, and labor markets.
To read the newsletter, download a PDF here.
For more information about Heller Highlights, contact hellercommunications@brandeis.edu.
Return to the BrandeisNOW homepage