BTC will connect the heart and brain this week with 'Love's Labour's Lost'
Shakespeare's play runs Thursday-Sunday as part of the Leonard Bernstein Festival of the Creative Arts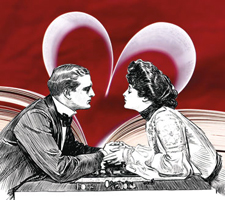 From April 29-May 2, the Brandeis Theater Company will present Shakespeare's delightful intellectual comedy, "Love's Labour's Lost," in a production set in the lush, art nouveau world of the early 1900s. The BTC production will be directed by Steven Maler, founding artistic director of Commonwealth Shakespeare Company.

In the play, the King of Navarre and his three feckless lords swear an oath to scholarship and vow to have no contact with women for three years. But when the Princess of France arrives with her female entourage, the Bard's wittiest battle between the heart and the brain ignites.

"Love's Labour's Lost is one of Shakespeare's great love stories," says Maler. "The quartet of lovers journey from a euphoric discovery of infatuation to a thoughtful reflection of meaningful engagement with another person."

The journey includes encounters with characters whose self-importance inevitably deteriorates into foolishness; dazzling wordplay; and playful jousts with rustic fools, before all give in to Cupid, "the anointed sovereign of sighs and groans."

Performances will take place at the Spingold Theater Center on Thursday, Friday, and Saturday at 8 p.m. and Saturday and Sunday at 2 p.m. Tickets are available from Brandeis Tickets (781-736-3400).

Click here for the complete Leonard Bernstein Festival of the Creative Arts schedule.
Return to the BrandeisNOW homepage