International musicians to collaborate for Pacific Rim Festival Brandeis
April 26 and 27 concerts will feature the Lydian String Quartet, Contemporary Music Ensemble of Korea, and Del Sol Quartet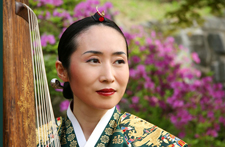 CMEK's JiYoung
Yi
WALTHAM, Mass.—Brandeis University will host an extraordinary cultural exchange when the
UC Santa Cruz Pacific Rim Festival
comes east. The
Lydian String Quartet
—comprised of faculty members
Daniel Stepner
,
Judith Eissenberg
,
Mary Ruth Ray
, and
Joshua Gordon
— will collaborate with the Contemporary Music Ensemble of Korea and California's
Del Sol Quartet
in a pair of concerts April 26 and 27 in
Slosberg Music Center
on the university's Waltham campus. Tickets are $10–$25 and are available online at
Brandeis Tickets
or by calling 781-736-3400.
The concerts will feature new pieces written specifically for the festival by 12 distinguished composers representing the musical languages of Cambodia, Japan, China, Taiwan (
Yu-Hui Chang
), the Philippines, Korea, Bosnia and the U.S. (
David Rakowski
). Each piece will incorporate both Western and traditional Korean instruments.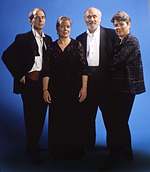 Lydian String Quartet
"So much of the music we play in the Lydian is concerned with journey in the larger sense of narrative and development—through the architecture of a piece, harmonic motion, and development of melody and pieces of melody," explains Judith Eissenberg, violinist in the Lydian String Quartet.  "In my listening to Korean music, I think the experience is more inner. The journey takes place in what happens to a single sound after the string is plucked—like watching the ripples in a pond after the pebble is thrown. I am looking forward to playing the new music that has been created for us, which will mediate across time and place and bring these aesthetics together."
The Contemporary Music Ensemble Korea (CMEK) is made up of Soo-Neon Chung (haegeum), Sang-Hun Kim (ajaeng), Jeong-Seung Kim (daegeum) and group director JiYoung Yi (gayageum).
On April 26, CMEK will join the Lydian String Quartet in a 7 p.m. concert in Slosberg Music Center.
"This is a kind of classical world music, a continuation of tradition following the contemporary currents of cross-cultural engagement," Judith Eissenberg says. "Somewhere, sometime, the violin and the haegum share a common ancestor; how wonderful to meet again and speak with words invented by our composers."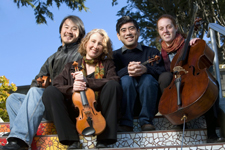 Del Sol Quartet
The following night, April 27, CMEK will take the Slosberg stage again, this time with San Francisco's Del Sol Quartet for a 7 p.m. concert. Acclaimed for their "imagination and bravery," Hannah Addario-Berry, Charlton Lee, Kate Stenberg and Rick Shinozak are known to break traditional boundaries for classical music and often collaborate across disciplines, notably on the world premiere of "Divide Light," a multimedia opera uniting new music with the visual arts and the poetry of Emily Dickinson. Their collaborations with international artists have spanned the globe from Russia to Cambodia.
These concerts are part of the Lydian's
"Around the World in a String Quartet"
series and the
World Music Series
. 
Return to the BrandeisNOW homepage