Schusterman Center unveils Israeli art collection
Complementing the collection is a library of 500 books, catalogues and pamphlets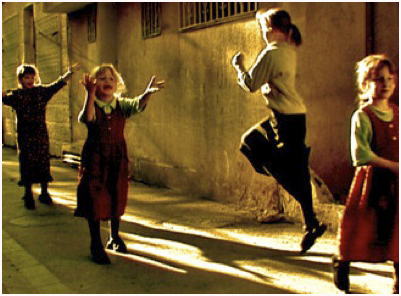 At the entrance to the new home of the Schusterman Center for Israel Studies, on the top level of the Mandel Center for the Humanities, visitors encounter innovative video works by prominent Israeli artists.
These works by Sigalit Landau, Yael Bartana, Doron Solomons and Guy Ben-Ner are on display here after having been screened at major museums, among them the Israel Museum in Jerusalem, the Museum of Modern Art in New York, Tate Modern in London, and the Massachusetts Museum of Contemporary Art. They are part of a new collection of contemporary Israeli photography, prints and video art unveiled Nov. 10 at the inauguration of the Schusterman Center's new space.

Also on display in the center are several large and powerful photographs of the Israeli landscape, including a nostalgic vista of the Yarkon River by Yossi Breger and a nocturnal image of the ruins of a Palestinian home from the city of Lod by Dor Guez. Another group of photographs portrays the diverse and multi-cultural population of the country. Leora Laor's work focuses on little girls at play in the ultra-religious neighborhood of Mea She'arim, while Pavel Wolberg casts a keen eye on an Israeli soldier and an Arab shepherd and their tense encounter at Qalqilya checkpoint.

Several other works use photography to reflect on memory, genealogy, history and absence. Moshe Gershuni's eight photo-etchings, created from fragments of a century-old photograph of his family, are dispersed on the walls of the reception area of the Schusterman Center. These striking black and white image fragments of eyes, hands and faces coalesce into a haunting and thought-provoking ensemble. Yocheved Weinfeld's tri-part series titled "Family Line" and Yuval Yairi's composite photographs that recreate the library of Nobel Laureate S.Y. Agnon explore how photographs may be used to preserve the memory of an absent individual.

Many of the works in the exhibition were donated by the Charles and Lynn Schusterman Family Foundation; others are on loan from the artists.
Complementing the new art collection is a library of 500 art books, catalogues and pamphlets on Israeli visual culture, donated to the center in honor of Lynn  Schusterman, chair of the Schusterman Family Foundation, through Artis, a non-profit organization that supports contemporary Israeli art. This gift will allow Brandeis students to study Israeli art as never before, according to the Center faculty.

At the dedication, Lynn Schusterman thanked supporters of the center, many of whom were in attendance, as well as the center's Advisory Council and the Mandel Foundation. "I could not be more proud or more excited about the hope and promise these walls embody," she said.

The event also celebrated the inauguration of the first permanent chair in Israeli art outside Israel, which is held by Professor Gannit Ankori. Center director and Stoll Family Chair in Israel Studies Ilan Troen introduced Ankori as a "distinguished art historian, educator and curator who has made her mark by exploring the work of Israeli artists of all ethnic and religious backgrounds:  Jews, Muslims, Christians, Druze and Bedouin."

Troen said that both the chair and the emphasis on visual art are consistent with ensuring that Brandeis maintains its pioneering leadership as the prime venue in what has become a world-wide movement of bringing the study of Israel to the academy. He explained that the chair articulates the direction in which Israel Studies must develop.

"There is an extraordinary array of visual materials that reflect the country's physical and social reality as well as serve the imagination of its inhabitants and outside observers,"  Troen said.

He pointed out that Israel has primarily been viewed through literary materials. Modern observers, he said, have access to an "unprecedented plethora of images that both depict as well as interpret what we see." Troen enumerated the bounty of visual material produced by Israeli artists -- works on canvas and illustrations in books; sculpture and architecture; arts and crafts; photographs, films and video installations. These cultural materials all "require attention and understanding" and merit rigorous academic study. "The Schusterman Center has recognized that Israel Studies must engage this vital, visual dimension," he concluded.

Recognizing the importance of art in the academy as a crucial tool for understanding and interpreting the complexity of modern Israel, the Schusterman Center is promoting "critical study of contemporary Israeli art and culture through rigorous academic scholarship, teaching and artist residencies," Ankori writes in the brochure she created to guide viewers through the new collection. Just as the center brings to campus speakers and public figures representing all viewpoints, its new home will "serve as an inclusive exhibition venue for Israeli artists of diverse ethnic, cultural and religious backgrounds."

Ankori joined the Brandeis Department of Fine Arts this fall after serving as the Henya Sharef Professor of Humanities and chair of the Department of Art History at the Hebrew University of Jerusalem. She also was a visiting scholar and associate professor at Harvard University and a visiting associate professor at Tufts University/School of the Museum of Fine Arts. 

She has published two books and numerous articles on Frida Kahlo, and curated an exhibition of Kahlo's work at the Jewish Museum in New York. She has published and lectured extensively on Israeli and Palestinian art and on the visual representation of gender-related issues, the construction of identity, exile, trauma, the immigrant experience and hybridity. Her book "Palestinian Art" (Reaktion Books, 2006) won a Polonsky Prize for Originality and Creativity in the Humanistic Disciplines.

Stressing the complexity and diversity of Israeli art, Ankori shared a slideshow presentation, illustrating her points with affecting examples: Micha Ullman's memorial in Berlin; Meir Gal's photograph protesting the marginalization of "Mizrahi," Oriental Jews; and the work of Arab artists Asad Azi and Dor Guez, among others.

"Art has the power to express what is too painful to say in words or what is too difficult to hear when uttered," explained Ankori. Guez's Lydd Ruins 5, part of Ankori's presentation as well as the center's new art collection, is a nocturnal photograph of the remnants of a Palestinian home destroyed in 1948. The work is part of a multimedia museum installation titled "Georgiopolis" that tells the story of the artist's mother's family, Arab Christians who remained in Lydd, the Arab name for the town of Lod, in 1948.

Guez "embraces numerous identity components and refuses to choose one side – he is Arab, Jew, Christian, Palestinian and Israeli," said Ankori. "By rejecting the agonistic dichotomies that characterize identity politics in Israel today…his art envisions a liminal space where empathy and alternative, inclusive, humanistic configurations are possible to imagine."

She spoke movingly of the power of visual art to give voice to the voiceless and to "articulate the unsayable, the traumatic, the unfathomable." Ankori emphasized the important role of Israeli art in fostering dialogue on difficult subjects, like the conflict, immigration, and the Holocaust.

Thanking Troen for his leadership, Ankori praised him for transforming the Schusterman Center into an "inclusive, multidisciplinary and multi-vocal space that is committed to critical scholarly inquiry and meaningful academic discussions on even the most complex, sensitive and contested issues."

The dedication included a site-specific, symbolic installation created expressly for the occasion by award-winning visiting artist Nelly Agassi. Working with Brandeis students, Agassi decked the auditorium's wood columns from floor to ceiling in red satin ribbons tied into bows. An example of "soft architecture," the installation was an artistic alternative to the traditional ribbon-cutting ceremony, as well as a celebratory gesture of gratitude for the gift of art, which was a major theme of the dedication.

Acknowledging the generosity of those who had made the new art collection and library possible, Ankori thanked Schusterman, Marge Goldwater and Rivka Saker. She also acknowledged the many artists who generously lent their art, including Yocheved Weinfeld, Moshe Gershuni, Sigalit Landau, Doron Solomons, Yael Bartana, Guy Ben Ner and Agassi. Ankori expressed deep appreciation for her colleagues from the Rose Art Museum and the Department of Fine Arts, as well as the center's assistant director, Rachel Litcofsky.

Throughout, Ankori spoke with conviction and warmth, and her spontaneous moments of humor created an intimate atmosphere in the packed auditorium. Concluding on a personal note, she thanked her husband and three sons, quoting the pithy, powerful last words in the diary of Christopher McCandless, subject of her teenage son's favorite book, "Into the Wild": "Happiness real only when shared."
Return to the BrandeisNOW homepage