Immunobiologists will receive 39th Rosenstiel Award March 2
Award is strong predictor of the Nobel Prize
Two renowned biologists will be honored Tuesday with the 2010 Lewis S. Rosenstiel Award for Distinguished Work in Basic Medical Science.
Jules Hoffmann, distinguished class research director of the French National Research Agency CNRS, in Strasbourg, France, and Ruslan Medzhitov, the David W. Wallace Professor of Immunobiology at Yale University School of Medicine, were selected for their pioneering work elucidating the mechanisms of innate immunity. They will receive a $30,000 cash prize and a medallion.
Prior to receiving their awards, the pair will deliver lectures at a 4 p.m. public symposium in the Shapiro Campus Center's Shapiro Theater. Hoffmann's talk is titled "The Antimicrobial Response of Drosophila: A Paradigm for Innate Immunity"; Medzhitov will speak on "Toll Pathway of Host Defense."

Hoffmann, who also serves as a professor at the University of Strasbourg, where he earned a Ph.D. in 1969, has spent his career studying the development and defense reactions of insects. Since 1990, he and his laboratory have explored the potent antimicrobial mechanisms of Drosophila as a paradigm for innate immune defenses. The group is credited with having unraveled the role of Toll receptors in fighting infections.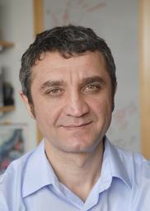 Ruslan Medzhitov
Medzhitov, an investigator at the Howard Hughes Medical Institute, earned a Ph.D. from Moscow State University in 1993. From 1994, to 1999, he worked as a postdoctoral fellow with Charles A. Janeway Jr. at Yale University School of Medicine.
In 1997, Medzhitov identified a human homologue of Drosophila Toll (now known as TLR4). He has since contributed to the characterization of the mammalian TLR family.

The Rosenstiel Award was established in 1971 to highlight the important role educational institutions play in encouraging and developing basic science as it applies to medicine. Awards are presented annually to scientists who have made discoveries of particular originality and importance to basic medical research.
Winners are selected by a panel of scientists assembled by the Rosenstiel Basic Medical Sciences Research Center at Brandeis. Over the decades, more than two dozen Rosenstiel winners have gone on to win the Nobel Prize.
Since the Rosenstiel Center was established in 1968, Brandeis has placed great emphasis on basic science and its relationship to medicine. The Rosenstiel Awards are viewed as a means of extending the center's support beyond the campus community.
Return to the BrandeisNOW homepage