Slam poets will speak up for Haiti relief Feb. 28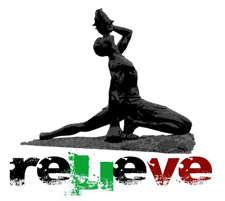 VOCAL's biggest show of the year, "VOCAL: Relieve 2010," aims to put you in lyrical awe and raise money and awareness to improve the future for Haiti's youth. The spoken-word poetry concert will be held from 7:30 to 10:30 p.m. on Sunday, Feb. 28 in the Shapiro Campus Center theater, and will feature nationally-acclaimed poets and the Brandeis Slam Team. The show will raise money for ETE Camp, which was started by Shaina Gilbert '10 for children in Hinche, Haiti.
          
Tickets are $5 for Brandeis students, $10 for other students, and $15 for general admission. They may be purchased at the ticket booth in the Shapiro Campus Center or online at Brandeis Tickets. Additional donations are encouraged and appreciated. From now through Sunday, donations to Partners in Health for the Brandeis Haiti Relief Effort will be matched by the Entrepreneurs Foundation HelpHaiti Fund.
 
VOCAL is a student group that combines poetic arts with activism. Harlym 125, a.k.a. Associate Dean of Student Life Jamele Adams, is master of ceremonies for this event; DJ Esquire, a.k.a Darryl David '09, will be the DJ.
Performers include:
Brandeis Slam Team
Jason Henry Simon-Bierenbaum '11 was on the world Champion 2007 Philly Youth Slam Team and coached/slammed for the 2009 Brandeis Slam Team. He's performed at the Apollo, the Dodge Poetry Festival, and the Boston Book Festival.
Usman "Yasin" Hameedi '12, born and raised in Brooklyn, N.Y., has been writing for almost 10 years and has several years of poetry performing experience. He is the 2010 Brandeis Grand Slam Champion.
Sara Kass Levy '12 studies Creative Writing and Gender Studies. She received a Silver Award on her General Writing Portfolio from the Scholastic Art and Writing Awards of 2008 and was the winner of the 2007 Interlochen Arts Academy Creative Writing Scholarship Contest.
Rachel Parkin '11 is a double major in English and African and Afro-American studies. Although a first year member of the Brandeis Slam Team, she has performed at local schools and many Chum's coffeehouses.
Jordan Hinahara '12 is new to the slam world.
Return to the BrandeisNOW homepage