Ethics Center explores the artist as environmental activist this week
Graphic artist Hoseob Yoon's campus residency includes series of public events
Hoseob Yoon, a South Korean graphic artist who has devoted his career and his life to protecting the environment, comes to Brandeis as the fourth Distinguished Visiting Practitioner of the International Center for Ethics, Justice and Public Life.
 
His four-day residency, Feb. 8-11, includes class visits, art demonstrations, exhibits, and one-on-one talks with students and members of the community as Yoon shares his message about the risk of climate change and the threats it poses to agriculture, water supplies, health, and biodiversity.
 
Highlights of the residency include a discussion of Yoon's artwork and activism in the Shapiro Campus Center gallery from 2-3:30 pm on Monday, Feb. 8; Yoon's keynote talk, "The Green Canvas: The Artist as Environmental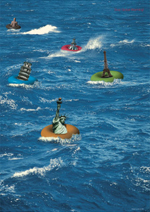 Activist," at 7 p.m. on Tuesday, Feb. 9 in Pollack Auditorium, and a story-telling session with Yoon from 2-3:30 p.m. Feb. 10 in the campus center gallery followed by an hour of one-on-one sessions with students.
 
The residency concludes with an open art-making session from 2-8 p.m. Thursday, Feb. 11, during which Yoon will work with students on the design and painting of T-shirts with artful messages that will help preserve the planet. Bring your own T-shirt if you like!
 
The event will be hosted by Students for Environment Action.
 
This residency is hosted by Eric Olson, senior lecturer in ecology in the Programs in Sustainable International Development. It is part of a year of activities designed to raise awareness on the Brandeis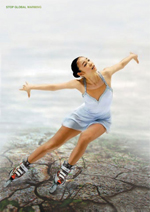 campus about climate change and the choices we all make in relation to the Earth's environment, now and in the future.
Click here for more information on the Distinguished Visiting Practitioner program, and on professor Yoon, including a look at his environmentally-focused designs and "Green Canvas" Web site.

Click here to visit the Brandeis Forum on Environmental Crisis.
Click here for an ethical inquiry into the question: "Who Bears Responsibility for the Environment?"

Click here to learn about "Changing Climate Changing People? The Ethical Implications of Climate Disruption," a March 23 conversation with Brandeis faculty members.
Return to the BrandeisNOW homepage