Gary Goldberg '91's better bedtime story
The following article appears in the spring 2010 issue of Brandeis University Magazine. Visit the magazine's website to see what else is inside.

Like most parents, Gary Goldberg '91 wants to protect his kids. But not every parent ends up protecting thousands of other people at the same time.

That's the problem—and opportunity—that Goldberg faced eight years ago when his young son was having difficulty breathing at night due to microscopic allergens, like dust mites, that were passing from his mattress and onto his sheets and pillow case. Having grown up in the family textile business, Goldberg knew there were many hypoallergenic bedding products on the market, but, he says, they weren't maximizing the potential of modern technology to help allergy sufferers like his son rest better.

"There were products that were giving good protection but weren't providing the customer with any comfort or durability," Goldberg says. "Or there was cotton that provided comfort but had very large pores that would allow allergens to pass right through them. But nothing provided both comfort and protection."

Goldberg decided to engineer a solution. The result was MicronOne, a fabric with pores small enough to block the passage of even the tiniest toxins while still allowing body moisture to transpire through it. Today, his textile technology is used in a line of hypoallergenic products, including pillow and mattress casements, stuffed pillows, and window treatments that are manufactured and distributed by CleanBrands, a Rhode Island-based company Goldberg founded in 2007.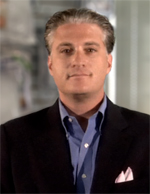 Goldberg says the goal is to provide customers with durable, comfortable, and affordable home-allergy protection, and retailers are buying his message. You can find CleanBrands' line of products, aptly named CleanRest, in national chains like Bed, Bath & Beyond, in the British luxury department store Harrods, and even up in the sky—CleanBrands makes the official in-flight pillow for both JetBlue and Virgin America airlines. But his highest endorsement may be from the business magazine Forbes, which named CleanBrands, makers of MicronOne technology, one of "America's 20 Most Promising Young Companies" in 2009.
Despite all the lofty praise, Goldberg says the criticism he's received is just as important. "We'll sit in a room in a vacuum and think something is great, but don't be afraid to listen to the truth if someone comes in and says you're wrong," Goldberg says. "Take all the advice you get as fact."
His other bit of business advice comes from the classroom. Goldberg, who majored in economics, wishes he had focused more on his true academic love: studio art. "I was young and was concerned with what my parents and other people would think about a guy who graduates with a degree in making art," Goldberg says. "But what I've noticed over time is that it's creativity that has helped me take an idea and complete it. When I make a product today and I see people go into stores and appreciate it and pay for it, that's the same kind of excitement that I got while making art at Brandeis." 
Return to the BrandeisNOW homepage