Amid the violence, Matt Kupfer '12 checks in from Kyrgyzstan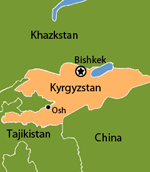 This gripping firsthand account of the current violence in the Central Asian country of Kyrgystan was written by Matt Kupfer '12, a double major in anthropology and international and global studies who is currently studying AIDS education in Kyrgyzstan.
I am safe and in Bishkek, the capital of Kyrgyzstan, where there is no fighting. 

The situation in Osh [center of the violence] is very bad. The news outlets may label this as ethnic conflict, and that is true, but it is too general. I think the term "ethnic cleansing" against the Uzbeks -- who make up about 40 percent of the population of Osh -- is more appropriate.
I was living with an Uzbek family. On the morning of the second day of the unrest, we decided to leave home, because we believed Kyrgyz gangs were coming to raise hell in the neighborhood. We set out through the back gate and across the fields and farmland behind the house. When we came to a dirt road, we saw cars and microbuses filled with Uzbeks heading to Uzbekistan, and there were more Uzbeks coming to get on board.

Part of the problem is that in South Kyrgyzstan the police force is basically an all-Kyrgyz club and will not protect minority rights.
 
The neighborhood I lived in is a total mess. The day before I left for Bishkek, we returned to the house. It was fine, but the streets in the area are barricaded with rubble to prevent cars of Kyrgyz from speeding through in the night. My host parents, Abdulla and Halima, owned two pharmacies, both of which were destroyed by Kyrgyz mobs.

I have never met such helpful and caring people. I will never be able to thank Abdulla and Halima enough for all they did for me. Nor will I be able to repay the kindness of the Kyrgyz family we stayed with after we left home. When I was leaving for Osh airport, a young Uzbek man who was guarding the neighborhood offered to let me stay with his family in Bishkek and another Uzbek man offered me food and drink.

There was another person from Brandeis in Osh at the time: Emily Canning, a PhD student and a good friend of mine. I am happy to say that she and I left Osh together and we are both well and unharmed.

While I have not yet had the chance to read many news stories about the situation in Osh, I am very afraid that they will not conveying the extent to which Kyrgyz were the aggressors in this situation. It worries me. The UN is condemning the violence in Osh, but if the world does not understand that this is Kyrgyz aggression against Uzbeks, then I am afraid that international organizations like the UN, as well as politicians, will be able to do nothing to help.

There is much more to my story. I am currently trying to write an account of it, but it is taking a while. When I am done, I will send it.

If there is one thing I can tell you in general about conflict and war from this experience, it is this: As this was happening, I thought the lesson of it all was that the border between war and peace was very narrow, that life as we know it can break down at any time. Now, I think I was wrong. Between total war and peace lies a rather wide borderland, where chaos and life meet. One minute I was working in Osh, the next I was trekking across the fields to get to safety, the next I was sitting down to lunch with Kyrgyz family. Life continued in spite of war.

As Americans we are very used to war in Afghanistan and Iraq, though very few of us actually fight. We don't know what it's like on the inside. To use a bad metaphor, it's like a hurricane. As Osh burned around us, we sat quietly in the middle of it and we ate dinner, watched the news, looked at family photos, and shared stories.

We are lucky enough to have stability in our country, as well as a government and police force that, in general, guarantee minority rights. But when you read about war in the newspaper or see it on CNN, don't just think about the number of people killed or wounded. Of course, this is important. But what about the people who had to flee their homes? What about the people who lost their livelihoods? What about those who didn't know if they would see their friends and loved ones again? What about those who went hungry because the stores were not open. And what about those who spend years looking over their shoulders, unable to trust their neighbors and coworkers once the war ends? In the end, we are all wounded by war.

Let me stress that I am not saying that Kyrgyz people are bad or violent. Many were helping Uzbeks, and there is also a problem with freedom of information in Kyrgyzstan. No one knew exactly what was happening, because the news station repeatedly said that everything was fine. This lack of accurate information led many Kyrgyz to believe that the Uzbeks were, in fact, the aggressors. 
Still, I think it may be a while before I can meet a person from Kyrgyzstan without remembering what happened in Osh. Likewise, I think it will be a long time before I meet an Uzbek without feeling a sense of solidarity with him or her.
Return to the BrandeisNOW homepage