Beckman Foundation award will provide for undergraduate science research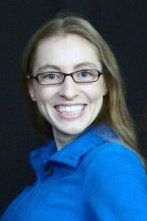 Jessica I. Hutcheson '11
WALTHAM, Mass.--The
Arnold and Mabel Beckman Foundation
has awarded Brandeis University $96,500 to fund scientific research by undergraduates over the next three years. Brandeis was one of nine institutions nationwide to win Beckman Scholar Program grants.
The Beckman Foundation provides funding in support of projects that contribute significantly to advancing the education, research training and personal development of students in chemistry, biochemistry, and the biological and medical sciences.
The sustained, in-depth undergraduate research experiences and comprehensive faculty mentoring are unique in terms of program scope, content and level of scholarship awards.
"This is a recognition of how well Brandeis trains its undergraduates and of the remarkable research opportunities that are available here," said professor of biology
Liz Hedstrom
, who helped prepare Brandeis' application for the grant. "Our undergraduates work side by side with graduate students and postdoctoral fellows doing real research in laboratories that are world leaders in their fields."
The award will provide each of five students with a stipend and research and travel expenses for two summers and one academic year. The first students to be named Beckman Scholars at Brandeis are Jessica I. Hutcheson '11, a double major in neuroscience and biochemistry, and Philip Braunstein '12, a biochemistry major.
"It's an amazing prize – it's sort of like validation," Hutcheson said. "Not only am I going to be able to do the project I want to do, but someone else thinks it's a good project to be doing."
Hutcheson's work involves constructing flies with mutant EAG membrane protein, as part of research into mechanisms for learning and memory. "This protein interacts with another protein and we're trying to explore how this interaction contributes to learning and memory," the Austin, Texas, native said.
Her research is being conducted in the laboratory of professor of biology
Leslie Griffith
, which focuses on mechanisms of learning and memory at the molecular level.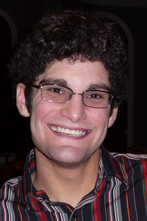 Philip Braunstein '12
Braunstein, a native of Denver, is using his Beckman award to explore ways to inhibit development of an intestinal parasite known as Cryptosporidium parvum that can cause potentially fatal illness in people with compromised immune systems, and that also is a potential bioterrorism agent.
The parasite causes an extremely infectious, waterborne diarrheal disease that is a significant contributor to the terminal wasting away of AIDS victims and to permanent stunting of the growth of children suffering malnutrition. The disease is particularly prevalent in countries where there is population overcrowding and a lack of safe drinking water.
The parasite lives only inside host mammals and cannot be cultivated in the laboratory, which has been a major obstacle to research. For this reason, Braunstein will work on attacking it by manipulating an enzyme that the parasite uses to make its DNA. His work is part of the Hedstrom Laborartory's anti-parasitic drug discovery program.
"I'm going to try to mess up the way this parasite makes its DNA," Braunstein said. "If you can stop the enzyme from working, the parasite can't make its DNA, and if it can't make DNA it will die out."
If his attempt to find a chemical that interferes with the parasite's DNA production succeeds, the next step would be to test the chemical on human enzymes.
"If it inhibits both parasite and human enzymes, it's not useful because it would kill humans too," Braunstein said. But if it works on the parasite enzyme and not the human enzyme, that means the chemical is a selective inhibitor, and that could lead to development of a drug that would kill the parasite."
"I really like how applicable this is" to real-world problems, Braunstein said.
Return to the BrandeisNOW homepage