Cross-country team finishes 16th of 32 in NCAA championship
Best showing since 8th place finish in 1998 Division III competition
The Brandeis University men's cross country team finished in 16th place out of 32 teams today at the NCAA Division III Championships held at Wartburg College in Waverly, Iowa.
The Judges had a score of 421 points, putting them 26 points behind 15th-place Allegheny College and 61 ahead of University Athletic Association rival Rochester. Brandeis was third out of five UAA teams who qualified for the NCAAs (Washington University 9th, NYU 10th, Rochester 17th, Carnegie Mellon 20th) and second among four New England schools (MIT 12th, Williams 18th, Middlebury 21st), both positions up one spot from their finish at the UAA and New England regional championships. Coach John Evans' squad finished up eight places from their 2009 placement of 24th. Their 16th-place finish was Brandeis's best showing at nationals since finishing eighth in 1998.
Individually, the Judges showed a spread of just 30.8 seconds from their first through their fifth finisher, the third-lowest total at the championships. Leading the way was senior Paul Norton (Amherst, Mass./Amherst Regional), who finished the eight-kilometer course in 70th place overall with a time of 25:17.3 seconds. Norton was  20 seconds faster than his pace in 2009, when he finished in seventh overall to earn All-America honors, but his teammates showed marked improvement.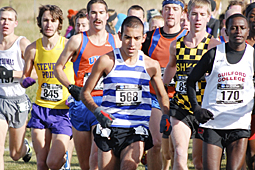 Junior Chris Brown (No. Chelmsford, Mass./Chelmsford), the team's third runner two years in a row, was second this year in 94th place with a time of 25:25.3. Brown improved by more than a minute and a half and by 42 places. Classmate Marc Boutin (Westford, Mass./Westford Acad.) placed 107th with a time of 25:29.2, a 10-place and 80-second improvement from 2009.
Senior Kerwin Vega (Waltham, Mass./Waltham) had one of the team's personal best performances, finishing in 138th place with a time of 25:41.4 to finish fourth, after finishing as the squad's fifth scorer in 2009. Vega shaved more than two full minutes off his nationals time and improved by more than 100 spots in the rankings. Classmate Devon Holgate (Cumberland, R.I./Cumberland) rounded out the team's scorers in 152nd place with a time of 25:48.0, 39 spots and one minute, 40 seconds better than in 2009.
Rookie Ed Colvin (Roslindale, Mass./Catholic Memorial) and senior Dan Anastos (Peabody, Mass./Peabody Memorial) were the team's final two competitors in 161st and 197th places, respectively, with times of 25:50.8 and 26:08.0.
Return to the BrandeisNOW homepage