Lamine Touré music, student photographs evoke African spirit
Four-day MusicUnitesUs program features concert, exhibit and much more.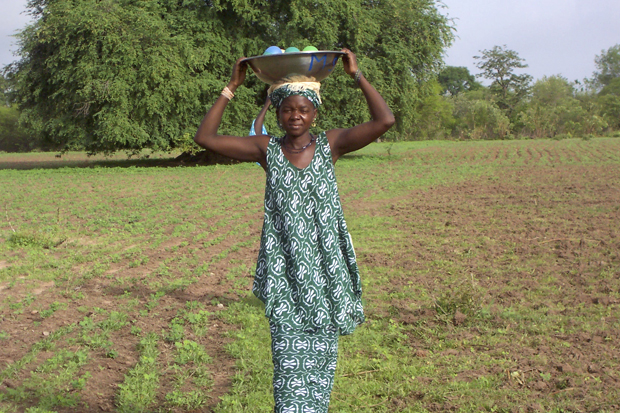 Cutting edge music is on tap for the Brandeis campus Saturday, Oct. 16 at 8 p.m. when Group Saloum, arguably America's hottest Afro-mbalax band, takes to the stage at Slosberg Recital Hall for a concert dubbed "Bàkk to the Future."

Group Saloum has a sound all its own.  It was founded by Lamine Touré, who is widely recognized as one of Senegal's leading percussionists. Coming from a long line of traditional drummers, he is a "griot," a member of the caste of musicians and oral historians among the Wolof people of Senegal.

Touré brings traditional influences to performances; Group Saloum's sound is driven by Touré's powerful and rhythmic sabar drumming while playing mbalax, a popular Senegalese dance music that originated in the 1970s. Group Saloum fuses these Senegalese traditional and dance hall sounds with elements of jazz, funk, reggae and Afrobeat.

The Boston Phoenix describes Lamine Touré and Group Saloum as "kicking out a hard-hitting dance music that spans the percussive fury of Senegalese mbalax and the joyful uplift of Congolese soukous." Afropop Worldwide says the group puts out "a hard-hitting dance mix that delivers both percussive fury and joyful uplift. This is the African music of the future."

Touré was born into a family of sabar drummers and has been performing since age four. He has been a key figure in the Senegalese music scene, appearing with the mbalax band Nder et le Setsima Group throughout Africa, Europe and North America. He says his global travels have inspired this new type of Afro-mbalax music, which he performs with his nine-piece ensemble.

Touré's campus appearance is the culmination of a four day residency, one of a series through Brandeis's MusicUnitesUS Intercultural Residency program that links creative arts with culture, history and tradition, to "further the understanding and appreciation of diverse cultures through music." Touré has also been an artist-in-residence at MIT.
In conjunction with the Brandeis residency, a photography exhibition featuring Brandeis students' photos from West Africa and Libya will be on display October 13-16 in Slosberg Music Center. The photos illustrate the students' varied experiences as Peace Corps volunteers, native residents or visitors. The exhibit is coordinated, curated and installed by Rebecca Ney '11 and Amira Mintz-Morgenthau '12.
MusicUnitesUS Director and Brandeis music professor Judith Eissenberg says that, at the concert, Group Saloum will break the music down to its elements for the audience. "First the drums, the driving force behind the music, will take center stage to give a taste of the local Senegalese tradition, then they will be joined by other members of the band," she says. "You'll hear the density of the drums and the intricate patterns and the fusion with western music."

Eissenberg credits Paul Simon with introducing U.S. audiences to an early taste of African rhythms with his "Graceland" album back in the 1980s, calling him "the grand daddy" of World Music, particularly in reference to South Africa. But, she notes, "since the 1980s there has been a lot of collaboration back and forth between continents, and audiences are getting more accustomed to more mixing with deeper synthesis of traditions. It started out with world music being primarily western with little exotic touches, but now it's more fused.  There really is an alchemy happening. It's becoming a whole other ballgame."
A free pre-concert talk starts at 7:00 p.m. with ethnomusicologist Patricia Tang, curator of the MusicUnitesUS Residency Program.
Tickets for the Saturday, Oct. 16 concert may be
ordered on line
or by calling (781) 736-3400. Ticket prices are $25 for the general public, $15 for the Brandeis community and $5 for students. $15 and $25 tickets bought in advance will be discounted by $5.
Return to the BrandeisNOW homepage