Real-estate projects course offers hands-on experience
New course puts students' classroom learning to the test
It's not every day that a business course requires a hard hat. 
And yet there was Stefan Stoev MA '12, standing in front of the Watch Factory in Waltham with a project manager who was debriefing him on two large parking lots for which his group had been asked to create a developmental feasibility study.
"I was nervous at first, but once we started talking I felt empowered to contribute my ideas to the team," said Stoev, who alongside classmates Tom Weaver MA '12 and Yubing Cui PhD '13 spent the past three months assessing how the properties could be developed and improved, with the end goal of presenting their findings to the firm that actually owns the lots.
The trio was one of two groups of students taking part in the school's inaugural "Field Projects in Real Estate." Taught by adjunct professor Edward Chazen, who has more than 25 years of experience in real-estate investment and capital markets, the course connects students with local real estate firms for hands-on consulting projects.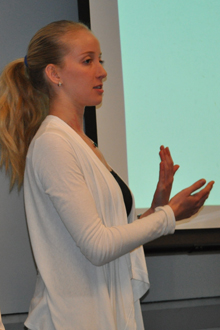 Nicole Cordero '11, MA '12
Students interview city officials, learn about municipal permit laws, conduct market research, meet with architects and contractors, create development budgets, and give weekly reports to on-site project managers. This past week, the groups presented their final recommendations to senior officials at the firms, which included Berkeley Investments and National Development.
"It teaches students how to assess market demand and determine development costs, giving them an understanding of how developers manage risk," said Chazen. "They get to experience some of the joys and frustrations of doing market research and feasibility analysis, and take that knowledge with them into the professional world."
Field Projects is part of the school's new real-estate specialization spearheaded by Chazen and Edward Bayone, the Earle W. Kazis Professor of the Practice of Finance and International Real Estate. Chazen teaches two sections of "Real Estate Fundamentals" and has also created new courses in real estate finance and real estate capital markets. He says Field Projects will expand to include four teams of students in the spring semester.
Nicole Cordero '11, MA '12 and her team of Abi Katznelson '11, MA '12 and Ben Zimmerman MA '12 tackled a project at Station Landing in Medford, evaluating development options that included assisted living, residential apartments and a new movie theater.
"It would be a great honor to come back in 10 years and see that the company moved forward with our plans," said Cordero. "When you are actually working at a consulting firm, there are no more written exams. It's a real-life test."
Return to the BrandeisNOW homepage